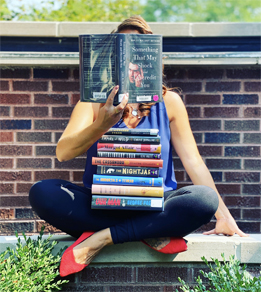 By La Prensa Staff
Northern Ohio libraries are promoting early literacy and reading programs and services ahead of National Read across America Day March 2. But the strategy goes beyond one special day—to create generations of active readers who will do better in school and in their professional lives.
The Toledo-Lucas County Public Library is offering four reading challenges right now, which encourage families to read together and earn prizes. 101 Picture Books and 50 More Picture Books are reading challenges meant to start reading to toddlers and preschoolers from a list of the best picture books as selected by local librarians. Successful completion brings a book for your home library.
8 Aloud is a reading challenge meant for adults and children to read aloud eight-chapter books together or listen to audiobooks. A zipper pouch is the prize for completion.
10 to Try covers reading a book in each of ten categories and allows the reader to choose their own titles or from a list of recommendations. If completed by the end of 2022, the reader receives a backpack and entry into a grand prize drawing. (https://www.toledolibrary.org/readingchallenges)
"We know that kids and families who read together create great learners and great futures," said Assistant Youth Services Coordinator Lauren Boeke. "We really, really want families to come visit us. We want adults to come visit us and stop by any of our 20 locations to learn about how we can best serve our families."
The library also offers book bundles and learning packs, where librarians choose theme-based, age-appropriate materials to supplement what kids are learning in school. Those can be picked up at any library branch.
The library system puts an extra emphasis on early literacy programs aimed at families with toddlers and preschoolers.
"We know that young children who love to read become better readers in school," said Ms. Boeke. "So if our parents, grandparents, and caregivers that are in their lives are good readers themselves and show them that reading is fun, that's going to create a love of lifelong learning."
| | |
| --- | --- |
| One of the library's more popular programs is Ready to Read, a birth to preschool program which provides support to parents and caregivers to get kids ready for kindergarten and future reading success. Two-thirds of Toledo's children are not ready to enter kindergarten. By encouraging parents to read, sing, talk, write, and play with children every day, their early literacy skills can be built in time. (https://www.toledolibrary.org/readytoread) | |
The library also serves as the local hub for Dolly Parton's Imagination Library. Families who are income-eligible can sign up to receive a free book mailed to the child's home monthly until the age of five. If a child is registered at birth, they would receive up to 60 books for their home library. The program is entirely funded by community sponsors. (https://www.toledolibrary.org/imaginationlibrary)
Dial-a-Story allows families to listen to a children's book over the phone and doesn't require a digital device to download or a visit to the library to check out an audio book. Stories are updated every two weeks. Dial 419.745.9700 to access a variety of selections.
"There's a lot of new, additional education requirements out there. Kindergarten is the new first grade. It's not like when we went to school," explained Ms. Boeke. "Additionally, the pandemic has complicated that even further. We really want to be here as a resource for customers of all ages and let them know that reading is a great way to instill a love of learning and lifelong learning and the library is here through every step of their lives."
Many families continue to struggle to prepare young children to meet Ohio's third grade reading guarantee. A child's promotion to fourth grade depends on their reading proficiency being good enough to meet that guarantee.
"The third-grade reading guarantee is a huge step and milestone in every family's life," said. Ms. Boeke, herself the mother of girls in kindergarten and fourth grade. "It is a definite change for the kids because instead of learning to read, they change to reading to learn (from textbooks). It absolutely can put stress on families and one of the great ways to support children through that process is by building vocabulary."
According to Ms. Boeke, the more children listen to others reading aloud to them, research shows the better fluency and vocabulary that child will develop. In fact, she still reads aloud to her fourth-grade daughter.
"She has not asked me to stop and I don't plan to stop anytime soon," she said with a laugh. "She also listens to audio books, which means she's getting vocabulary and expressive reading and getting that deeper plot. My children can read at a certain level, but they can listen at a level that is much higher than what they can read themselves, which is why they're getting deeper plot and making deeper connections when they're doing any audio books."
Ms. Boeke even encourages families to consider comic books or graphic novels, which she contends "contain very strategic reading."
For example, her kids enjoy a series of books called Diary of a Wimpy Kid. But she'll check out the actual book so they can follow along with the audio book for greater understanding. Her kindergartener is reading one of that book series alongside the recording, which she stated "that's not something I would give a six-year-old otherwise." But the two in tandem are giving such a young child a lot of foundational learning and reading skills at an early age.
Unfortunately for many other families, COVID-19 has created a disconnect in the ability of many families to engage the library as a resource to help their children's reading skills. As the cases of COVID-19 start to wane for the second time, the library is trying to reach more families to assist them in helping their kids.
"We are really excited that we are open. The pandemic has been long. We want customers to come visit us," she said. "You can call or visit us online, but we want people to pop into our buildings, get to talking with us and we'll help you find a reading challenge or a book that is just right for you and your family. We're missing our people. We're missing our community members. We're glad it's safe enough for everyone to come see us."