Weekly Deadlines 
La Prensa prints on Tuesday each week. Ads must be received no later than Noon on Monday  The paper is distributed on Wednesday and Thursday.  Ads submitted after the deadline will be inserted at the Editor's discretion or my be force-added at an additional charge.
Special Monthly Edition for Lazo Cultural of Grand Rapids, Michigan
La Prensa publishes a special monthly supplement issue, in addition to its weekly, as part of the Spanish weekly Lazo Cultural, with 10,000 copies being printed and distributed in Southwest and Central Michigan, during the last week of each month.
Please call 419-870-6565  or email sales@laprensanewspaper.com for additional advertising rates and long-term discounts for this supplement.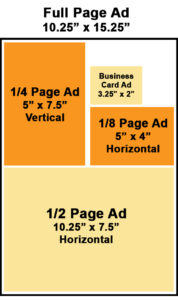 Ad Sizes
• Full Page 10.25″ x 15.25″
• Half Page 10.25″ x 7.5″
• Quarter Page 5″ x 7.5″
• Eighth Page 5″ x 4″
• Business Card Size 3.25″ x 2″
File Construction Tips
• Place or create all elements at 100% finished size
• Minimum resolution of 300 dpi
• CMYK
• Include all images, logos and artwork with your file
• Convert fonts to outlines or curves
File Format
• PDF – for completed artwork only. Be sure to embed fonts or convert to paths. Corrections and adjustments can not be made to PDF files.
• TIFF
• JPG
• PNG
Sample Artwork
One sample of each advertisement should accompany your order. We are not responsible for color shifts due to differences between the files and the provided samples.
*Artwork creation or corrections may require additional charges.
Classified Ads 
Classified ads are available per column inch. Contact La Prensa for current rates.  419-870-6565
La Prensa has a 6 column format. Column dimensions are:
1 col = 1.5"
2 col = 3.25"
3 col = 5"
4 col = 6.75"
5 col = 8.5"
6 col = 10.25"
The Publisher has the right to refuse any advertisements containing material deemed objectionable. The Publisher's criteria of acceptability is final for all ads placed.