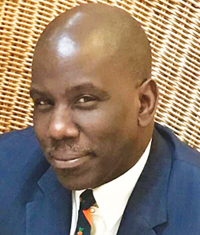 HOLLAND: Dr. Duane Dede, who is a clinical professor in the department of Clinical and Health Psychology at the University of Florida in Gainesville, will present "Clinical Psychology Applications in Sports-Related Concussion and Diversity, Equity and Inclusion" on Tuesday, April 5, 2022 at 4 p.m. at Hope College in the Schaap Auditorium of the Jim and Martie Bultman Student Center through the college's annual John Shaughnessy Psychology Lecture Series.
The public is invited.  Admission is free.
Dede will highlight his work in sports-related concussion research, graduate education, and diversity, equity and inclusion initiatives to illustrate some contributions of professional psychology to these areas.  A 1984 Hope graduate, he will also reflect on how the foundation in the Department of Psychology at Hope set the stage for his personal life and career.
After graduating from Hope, Dede earned his Ph.D. in clinical psychology from the University of Louisville in 1992, and then went on to a fellowship in clinical neuropsychology at the University of Michigan Medical Center.  In 1993, he joined the faculty of the University of Florida, where he is active in the training of graduate students, interns and postdoctoral fellows in the classroom and in clinics.
He is also the co-director of the University of Florida's Center for Traumatic Brain Injury Research.  His research interests include neuropsychological impact of sports-related concussions; adult learning disabilities; and assessing the cognitive/emotional competency of professionals to return to work.
A recent focus has been on determining the cognitive impact of concussions in football and soccer at the collegiate and high school level.  Dede has also dedicated his career to studying multiculturism.  He is the chairman of the department's Diversity, Equity and Inclusion committee.  He applies these principles in his clinical work, research as well as classroom teaching on the impact of health disparities in healthcare and the workforce.
The lecture series through which Dede will be speaking is named for Dr. John Shaughnessy, who was a faculty member at Hope from 1975 to 2015, retiring as a professor emeritus of psychology. As a student-focused professor, he aimed to equip students with an understanding and appreciation of research in order to prepare them to think and work effectively, and across his 40 years at the college taught nearly 2,500 students in his Research Methods course. The lecture series was established by students, alumni, faculty and other donors to honor Shaughnessy, who died on Dec. 16, 2015, and allow students to see examples of how their Hope psychology experience can equip them for the future.
The Jim and Martie Bultman Student Center is located at 115 E. 12th St., at the center of the Hope campus between College and Columbia avenues along the former 12th Street.  Schaap Auditorium is near the building's southwest corner.
https://hope.edu/news/2022/academics/address-to-discuss-clinical-psychology-applications-in-sports-related-concussions-and-diversity-equity-and-inclusion.html