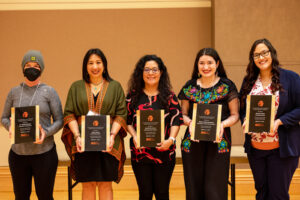 By La Prensa Staff 
BOWLING GREEN, OH: The 26th annual Latino/a/x Issues Conference took place Wednesday, March 23, 2022 in the Bowen Thompson Student Union on the campus of Bowling Green State University. The conference also featured a celebration of the 50th anniversary of the school's Latino Student Union.
The keynote speaker for the conference was Dr. Jude Power-Sotomayor, an assistant professor of theatre and dance at the University of California, San Diego. Her research focuses on Latinx theater and performance, and engages with the intersections of race, gender, and language that emerge from these art forms. Her speech was titled "Bámbula: Re-remembering the Place of Dancing in Latinx Life."
Dr. Power-Sotomayor told a lunchtime audience that she recalls watching Bámbula dances as a young girl, after moving to California from Puerto Rico when she was seven years old. Those dances and performances helped her to understand her own identity both as a Latina and as a Puerto Rican living on the West Coast and make sense of the various worlds she encountered.
"I am delivered here today with light skin, which shields me from much of the erasure and violence suffered by my loved ones, friends, and community, known and unknown," she said.
"However, Latinx people, as racially and culturally heterogeneous as we are, we are the inheritors of a coloniality produced through the encounters between Europe and the Americas."
Dr. Power-Sotomayor stated there is great internal value for Latinos to regain knowledge of their heritage and culture that has been taken through centuries of displacement, establishment of international borders, and normalization of society by those in power.
"This idea of Bámbula, this remembering where we come from, of using a practice to put something back inside us. What does it mean to use embodiment as a way to recuperate something that has been taken, to put something back together again, and in doing so, make something anew," she said. "Doing something with our bodies reorders and rearranges us."
Dr. Power-Sotomayor called dance as a Latino cultural expression "a complicated matter."
"The image of the Latinx rhythmic dancing bodies coupled with inability of the Latinx bodies being unable to register as anything other than excessive in sexuality and reproductive power, in poverty, muscle, and filth, in foreignness, works to contain, control, and ultimately disappear Latinx people from the public sphere, despite capitalism being structured through Latin labor," she maintained.
Dr. Power-Sotomayor argued those in power tried to either regulate or stop dancing in slave or plantation societies as a means of stopping revolts or regulating unchristian behavior. However, Africans and indigenous peoples saw it as both celebration and continuing historic traditions.
But she also stated there is power in dance even today; for example, promoting a togetherness during the pandemic instead of emphasizing being alone. She encouraged using dance as a means to "re-remember" where one comes from to maintain individual and cultural identity in spite of societies and governmental pressures to oppress and maintain control.
The conference also featured the eSTRELLA student research seminars, where BGSU students explored and offered presentations on various issues affecting the Latino community.
To showcase the 50-year history of Latino Student Union (LSU) at BGSU, students organized a roundtable discussion of past members from previous decades.
The conference concluded with a Latino mixer hosted by LSU. The student organization was founded in 1972 with the purpose of stimulating the common interest, advocating for civil liberties, and improving the quality of life for all Latinos.
In the Larry Arreguin photo, are award recipients: Dr. Michaela Walsh (Community At Large Award), Eileen Bosch (Outstanding Faculty Member), Rachel De La Cruz (Outstanding Staff Member), Zeltzin Contreras -Gómez (Outstanding Undergraduate Student), and Maritza Castro (Outstanding Alumnus).