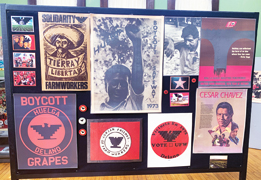 ADRIAN, MI: The Lenawee Historical Museum announces the opening of a new special exhibit focusing on César Chávez and the migrant farmworkers' strike and boycott of the 1960s and 1970s.
The Michigan legislature declared March 31 as César E. Chávez Day in 2004 to recognize his contribution to the nation by organizing farmworkers to campaign for safe and fair working conditions, reasonable wages, descent housing, and outlawing child labor. In 2014, President Obama declared the day as a federal commemorative holiday.
Adrian Friends of the Farm Workers (AFFW), organized in 1969 to provide local support to the United Farm Workers union (UFW) and César Chávez's nationwide campaign.
Mr. Chávez visited Adrian several times during the 1970s to meet with and encourage the efforts to boycott the sale of products, primarily grapes and lettuce, picked by the non-union, mostly Mexican, migrant work force.
The exhibit includes items from the personal collection of Lupe De León who, along with his wife, participated in the strike. In addition to a large AFFW banner signed by César Chávez and other leaders of the national movement, the exhibit includes original posters, newspaper articles, letters, buttons, bumper stickers, and other items related to the strike and boycott.
The museum is located in the historic Carnegie Library building at 110 E. Church Street in Adrian, Michigan. The museum free and open to the public on Fridays and Saturdays from 10:00 AM until 2:00 PM.