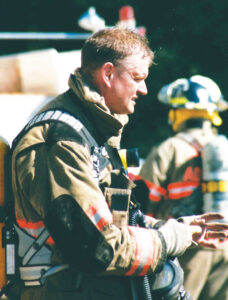 ADRIAN: Please join us on Thursday, April 21, 2022, at 7:00 pm in the historic Frazier Auditorium on the second floor of the Lenawee County Historical Museum for another of the museum's free educational programs.
Lt. Jeff Betz (Ret.) will bring to life what it was like to be a firefighter in 19th century Adrian as he traces the growth and development of fire fighting and fire fighters across the years. Learn about the historic equipment, training, and methods as they evolve into modern firefighting from the earliest days of the Adrian Fire Department.
Betz is a retired career Lieutenant and Training Officer for the City of Adrian Fire Department. Jeff had 26 years of service as a member of the Adrian Fire Department beginning in August 1990 and retiring in August 2016. He began his career in the fire service in Madison Township in 1979.
During his 41 years in the fire service, Jeff has been active in several areas, one of which is that he takes great pride in serving as the historian of the City of Adrian Fire Department, hoping to write a book on the topic in the future.
The museum is located in the historic Carnegie Library building at 110 E. Church Street in Adrian, Michigan. The program is free and open to the public. The doors will open at 6:00 pm with the presentation beginning at 7:00 pm.