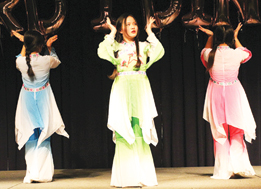 After a two-year hiatus, the International Dinner will return for its 44th year at 6:00PM on Saturday, March 26, 2022 in the Thompson Student Union Auditorium, Univ. of Toledo..
Hosted by the International Students Association, the event known as I-Dinner is a UToledo tradition spanning more than four decades featuring international culture, performances, a fashion show and food.
"The theme of this year's event is 'Where the Flowers Bloom' to signify new beginnings, especially after the rough couple of years we've all had," said Rachael Onuigbo, a junior from Nigeria studying nursing and president of the International Students Association. "This event gives our international students and staff an opportunity to showcase and express their different cultures and for local students to experience the wealth of diversity in the UToledo community."
The event will feature dishes from more than eight restaurants in the Toledo area.
"We have appetizers like spring rolls, baked empanadas, plantains, tiki chaat and fatayer," Onuigbo said. "Main dishes include jollof rice, jerk chicken, pan fried noodles and biryani. Non-alcoholic drinks like bubble tea, horchata and zobo will be available too."
Dessert will include baklava, gulab jamun and churros.
There will be performances from several organizations, including: UToledo Jalwa, Japanese Students Association, Korean Students Association, Chinese Students and Scholars Association, Persian Students Association and the Saudi Club.
"We're excited to bring back the global cultural experience that provides students from 83 different countries around the world the opportunity to showcase their culture, traditions, cuisine and sense of community," said Sara Clark, director of the UToledo Center for International Studies and Programs.
Tickets for the International Dinner are $15 per person in advance or $20 at the door. A table of eight can also be purchased in advance for $100. Tickets can be purchased on the Office of Student Involvement and Leadership website.
This year's I-Dinner's will benefit Halim Clinic, a local clinic that provides free healthcare to everyone. All profits will go towards the International Students Association's philanthropy; donations can be made at the event.