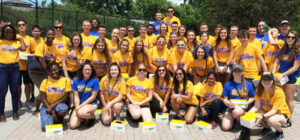 TOLEDO: Camps for science-minded high schoolers are back in-person and virtually this year at The University of Toledo College of Pharmacy and Pharmaceutical Sciences. Whether a student is interested in becoming a pharmacist, forensic scientist, cosmetic chemist, cancer researcher, or many other science-related professions, the camps are a tremendous place to explore those interests.
Our first camp this summer is fully online and will allow students to explore this unique major! It takes place virtually from Wednesday, June 22 through Friday, June 24, 2022. Students will learn about the process of creating makeup and personal care products through virtual sessions with big name cosmetics companies and influencers like Bath & Body Works and Lab Muffin. Participants will also receive a camp kit in the mail which will include a camp t-shirt, games, makeup product giveaways, and DIY activities such as a hair serum making kit.
Attendees of last year's camp had great things to say like: "I really enjoyed the experience and getting to know new people and all the possible jobs I could get in this field," and "It was so cool to learn about how colors for makeup and foundations are mixed." This is a unique camp for a unique program. Registration is open now and closes on May 25. Financial assistance scholarships are available for qualified students. Sign up soon to secure a spot for the UToledo Virtual Cosmetic Science and Formulation Design Summer Camp Program (#UTCoSciCamp).
The next offering is a camp that started running in 2001, UToledo Pharmacy Camp (#UTPharmacyCamp). If a student is interested in becoming a pharmacist, this is the perfect opportunity to explore those interests. Sponsored by Walgreens, this camp will take place in-person from Monday, June 27 through Wednesday, June 29.  Students will get to learn about patient safety, code skills, prescription filling, and more through interactive games and hands-on sessions with faculty and current students in the program. Participants will also receive a camp t-shirt, water bottle, drawstring bag, and more! Students will be staying in the UToledo residence halls overnight both nights to get the full student experience. All meals are provided, and students will get to experience both UToledo's Main Campus and Health Science Campus.
Sign up for either camp (or both!) at utoledo.edu/pharmacy/camp or email Kristen.Gartland@UToledo.Edu for details.