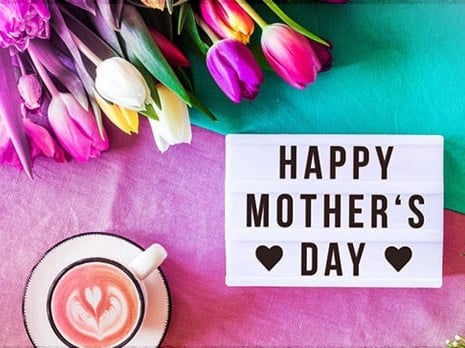 LORAIN, May 3, 2022: In the United States, Mother's Day is Sunday, May 8; in Mexico, the date celebrated is May 10th. Lorain Public Library System has numerous ways to help celebrate Mom, Grandma, the person that helped raise you or whatever powerful role model you have in your life that deserves some recognition and appreciation.
Create Mother's Day Coupon Books at the South Lorain Branch on Monday, May 2 at 6 p.m., and cards at the Columbia Branch from Monday, May 2 through Saturday, May 7 during regular hours.
Make something with Mom at the Mom and Me Crafting event at the Domonkas Branch or the V.I.P. Afternoon Tea at the North Ridgeville Branch, both on Saturday, May 7 at 2 p.m. There is also a Ready, Set, Grow event at the North Ridgeville branch on Saturday, May 21 where children age 3 and up can learn how to help Mom in the garden.
For dads, aunts, uncles or big siblings looking for a way to give Mom a break, there are a multitude of story times for birth through 5-year-olds held inside the branches as well as story times held in the woods and at the Miller Nature Preserve. There are also specialty story times with music and for those with varying learning styles and abilities, and even one held in the evening in your pajamas! There is also an ABCs of Art event on Tuesday, May 17 at 6 p.m. where school-age kids can get messy and make a masterpiece for Mom.
Adult children can spend time with Mom enjoying the book sales at the Domonkas Branch Wednesday, May 11 through Saturday, May 14 and the Main Library Thursday, May 19 through Thursday, May 26, the Downton Tea Party at the Main Library on Thursday, May 19 or cook a recipe together and join in the Cookbook Book Discussion at the Main Library on Wednesday, May 11.
For Moms looking to spend some time away from home, there is a Fingerprint Memory Magnets program at the South Lorain Branch on Monday, May 16 where you can turn your child's fingerprints into little works of art to hang on the fridge, or a Managing Photos Online class at the Main Library on Wednesday, May 11 where you can learn how to upload, edit and share photos on iCloud and Google Photos.
LPLS also has quiet reading rooms available.
To register for any program, visit LorainPublicLibrary.org/Events. For questions or more information, please visit your local LPLS branch in Lorain, Sheffield Lake, Avon, North Ridgeville or Columbia Station.