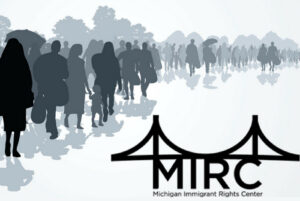 LANSING, April 29, 2022: Yesterday, the State of Michigan Court of Claims ruled to deny the defendant's motion for summary disposition in a case concerning workers' compensation for undocumented immigrants in Michigan. This allows the case to proceed.
The case is brought by the Michigan Immigrant Rights Center (MIRC), a legal resource center for Michigan's immigrant communities, against the Governor of Michigan. The lawsuit challenges the Michigan Court of Appeals' 2003 decision in Sanchez v. Eagle Alloy, which lets employers and insurance companies off the hook for failing to compensate undocumented workers injured on the job. MIRC alleges that the state's continued denial of undocumented workers' access to workers' compensation wages contravenes Michigan and United States Supreme Court precedent and violates due process.
For more than 17 years, undocumented workers in Michigan have been denied workers' compensation wages after suffering serious workplace injuries. This challenge seeks to stop that practice, ensuring the State and insurance companies provide the compensation owed to undocumented workers.
MIRC first filed its lawsuit in November 2021. In response, Michigan filed for summary disposition to dismiss the case on procedural grounds. In today's ruling, the Michigan Court held that MIRC has standing to sue:
"Because the complaint requests declaratory and injunctive relief to prevent future harm, the wrongs sought to be vindicated have not yet occurred, and the one-year notice period set forth in MCL 600.643(1) does not apply […] Defendant accurately observes that there is no Michigan caselaw adopting (or rejecting) organizational standing in the context of the issue presented in this case […] Applying these principles to the organizational standing concept described in federal caselaw, the Court readily concludes that MIRC has organizational standing to sue."
"Everyone deserves a safe and healthy workplace and the support needed to recover when injured – no matter who you are or where you're from. Immigrant food and farm workers perform some of the hardest, most dangerous, and most essential work. They should receive the same protections under the law as other workers," said Public Justice Food Project Litigation Director David Muraskin.
"Michigan's practice of punishing injured undocumented workers and shielding employers and insurance companies from responsibility must end," said MIRC Staff Attorney Anna Hill Galendez. "This is an issue that affects us all. Ensuring that undocumented people receive workers' compensation wages when injured would create more dignified, fair, and healthy workplaces for everyone."
MIRC is represented by Public Justice and the Sugar Law Center for Economic and Social Justice.