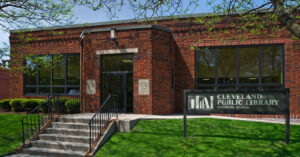 WHAT
Cleveland Public Library is celebrating the start of renovations on the historic Brooklyn Branch in the Brooklyn Centre neighborhood. Library leadership, city and community leaders, and other dignitaries are expected to attend the construction ceremony.
Vocon will modernize the Carnegie building while keeping its historic charm such as the classic fireplace. The future Brooklyn Branch will include
• An expanded children's area and dedicated teen space
• New reading and gaming areas
• 24-hour access to materials with Grab & Go Book Lockers
• A community co-working space
• Improved technology and accessibility
During the closure of the Brooklyn Branch, patrons are encouraged to visit the South Brooklyn Branch.
For project updates, visit cpl.org or our coUrbanize project site.
WHERE
Brooklyn Branch of Cleveland Public Library
3706 Pearl Road, Cleveland, OH 44109
WHEN
Saturday, May 14, 2022, @ 10:30 a.m.