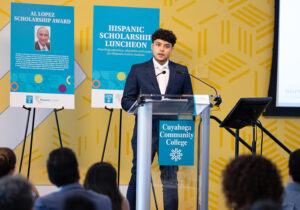 CLEVELAND, Aug. 12, 2022: High-achieving Hispanic students at Cuyahoga Community College (Tri-C®) have been awarded a total of $65,000 in scholarships to continue working toward associate degrees and workforce certificates.
More than 85 honorees were celebrated during the College's annual Hispanic Scholarship Luncheon on Friday, Aug. 5, at the Metropolitan Campus. The scholarship program is run in cooperation with Tri-C's Hispanic Council, which formed in 1992 to introduce Hispanic students to the resources they need to succeed.
"The Hispanic Council is proud to award scholarships. We know that this scholarship makes a huge impact for Latino students, and it's a testament to their resilience and determination to achieve their educational goals," said Jessica Cartagena, program manager for the Hispanic Council.
Scholarships are awarded through the Cuyahoga Community College Foundation and made possible through the support of many donors. The Foundation established the Hispanic Scholarship Fund in 2003.
More than 2,300 Hispanic students took classes at Tri-C last year.
Tri-C's Hispanic Council is a resource for Hispanic students to receive guidance in everything from academics to residency status. It also offers bilingual assistance with enrollment, financial aid, class registration and English as a Second Language (ESL) courses.
Contact Cartagena at 216-987-5691 or jessica.cartagena@tri-c.edu to learn more.