By Larry Arreguin
DETROIT, MI, August 22, 2022, Latino Fans and Athletes were treated to a multi-cultural celebration during the 17th Annual ¡Fiesta Tigres! game at Comerica Park.  Over 28,000 were on hand to participate in the celebration hosted by Miller Lite, that included entertainment and an on-field celebration of Cuban native Barbaro Garbey.  A live Spanish language radio telecast carried the ceremony and game on La Explosiva 1480 AM.
Prior to the Los Angeles Angels vs. Detroit Tigers game, Mariachi, Salsa and Cumbia bands could be heard throughout the ballpark playing Latin music.  Fans of all ages and ethnicities swayed and danced to the sounds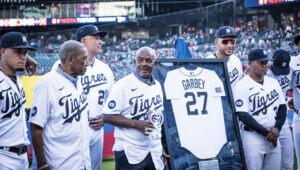 As the recognition ceremony began, A parade of Latin American Flags was carried by youth baseball players, including members of the DPSCD Western International HS Baseball Team.   They were joined by honoree Barbero Garbey and Pedro Sierra, fellow Cuban and former Detroit Stars baseball player.  Current Latino Tigers also were on hand that included: Jose Cisnero, Joe Jimenez, Eduardo Rodriguez, Gregor Soto, Javier Baez, Jeimer Candelario, Harold Castro, Jonathan Schoop, Willi Castro, Victor Reyes and Miguel Cabrera.  Also joining
For Barbaro Garbey, who will turn 72 this year, the celebration could not have been more fitting.  Born in Santiago de Cuba, Cuba, Garbey was part of the 1980 Mariel boatlift and was signed by the Tigers that year.  Four years later, he would make it to the majors and would be part of the historic 1984 World Series Team.  He batted .287, hit 5 home runs and drove in 52 runs for the World Champions.
The following year, he batted .257, hit 6 home runs and drove in 29 runs for the Tigers.  In 1988, he was signed by the Texas Rangers and finished his professional career with them playing in 30 games.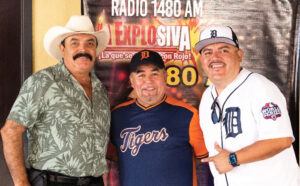 For the Team at WSDS La Explosiva 1480 AM, the ceremony and broadcast in Spanish, marked another milestone in there 21 years providing Spanish language music and programming.  Alex Resendez, General Manager was tasked with providing the pregame announcements and player introductions in Spanish, something that I'm sure "El Batman," will look forward to every ¡Fiesta Tigres!.
While the festivities and recognitions were well received, the Angels, Patrick Sandoval out dueled the Tigers Matt Manning, pitching a 4 hit, complete game shut-out.  Manning, allowed 3 hits and struck out 6, unfortunately one of those hits was a solo home run to Jared Walsh in the second inning that produced the only run of the game (Angels 1 – Tigers 0).