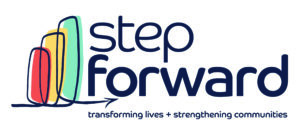 Cuyahoga County, OH: Step Forward is urgently hiring Early Head Start and Head Start staff ahead of the 2022-2023 school year.
Early Head Start and Head Start are government programs that offer early education to low-income families in Cuyahoga County. Step Forward, which operates ten sites, serves more than 2,753 vulnerable children ages zero to five. It is a critical resource for those living in Cleveland its surrounding suburbs.
"Each child can gain 80 percent of their knowledge for their lifetime from zero to five," Dr. Thea Wilson, the Vice President of Children and Families for Step Forward, said. "We know the critical time frame we have to engage children and educate them."
As of August 15th, Step Forward's Early Head Start and Head Start programs were hiring for 100 positions. About 86 of those were in the classroom. If Step Forward was fully staffed, the agency would be able to open another 24 Head Start classrooms and serve an additional 396 children.
"I am looking for anyone who loves children. Not just a warm body. You have to love children from your heart," Dr. Wilson pleaded.
To recruit and retain teachers and support staff including education aides, site administrators and more, Step Forward offered a $3 per hour raise to its Head Start employees in 2021 and continues to offer education incentives to new applicants.
"If you ever wanted to be a teacher, now is your opportunity. We will take you from not having a degree to at least a Bachelor's degree," Dr. Wilson said. "We have programs right here in our program that will pay for your schooling."
To view and apply for open positions, please visit https://www.stepforwardtoday.org/join-our-team.
About Step Forward
Step Forward helps people find hope, believe in their future and take steps to make it a reality. As the state's designated anti-poverty agency for Cuyahoga County, Step Forward is tasked and trusted to lead the fight against poverty in our community. The nonprofit organization helps low-income individuals and families address immediate needs and build long-term skills to transform their lives through early childhood education programs, adult skills training and other support. Programs include Early Head Start (birth to three), Head Start (three-five years of age); personal development programs to enhance life skills, manage anger or get on track with personal goals; career planning and job training to enable people to learn or enhance skills, earn certifications or improve readiness to pursue and win better job opportunities. Step Forward also delivers the Home Energy Assistance Program (HEAP).
For more information about Step Forward programs and services, visit our website at www.StepForwardToday.org. Follow us on Facebook, Twitter and Instagram @StepFwrdToday.