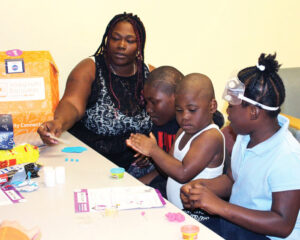 "Just use your imagination," Tracy Conley advised her daughter Trashawna, as the youngster built a model of a moon landing station out of toothpicks and Play-Doh. "It's all about using your imagination," Trashawna's brother Trayquan agreed. During their recent visit, the family spent time working through activities in the space themed COSI Learning Lunchbox.
Youth served by Franklin County Children Services (FCCS) are learning and having fun with COSI Learning Lunchbox kits provided to the agency thanks to a partnership with the Franklin County Commissioners and COSI. The activity boxes are rooted in Science, Technology, Engineering, and Math (STEM) and encourage students to investigate the sciences.
The boxes, which have been available to FCCS for more than a year, are making an impact in homes, during visitations and in life skills classes. Apart from being a resource for learning and fun, youth and their families have found that doing the activities in the kits is a great way to spend time together.
At Conley's visit, she was surprised that the activities were "fun, interesting and easy to understand." The consensus among Conley's children was that watching a model rocket powered by an Alka-Seltzer tablet launch into the air was the favorite activity of the day. "It went boom!" remarked Trashawna. The family also tested a new board game called "Your Place in Space," developed in partnership with the White House and the National Space Council, which taught them about careers in space. Trashawna chose a doctor as her character for the game "because they help people." The activity taught her that special doctors take care of astronauts who go to space. According to Stephen White, chief strategy officer at COSI, this innovative new game is intended to connect youth directly with careers and jobs in space, and inspire them around STEM career pathways.
Staff from COSI were also on hand during the visit to evaluate the effectiveness of the kits. According to Meredith Bush, manager of educational business development at COSI, the kits are designed "to open the children's minds to career options in STEM." The space box was developed by NASA with the Artemis 1 mission in mind. Other kits teach children about dinosaurs, nature, the human body and more.
According to FCCS executive director, Chip Spinning, Franklin County Children Services appreciates the opportunity to enrich the visitation experience with the COSI Learning Lunchboxes. "The agency has received tremendous value by adding an educational and interactive component to our visits and our life skills classes," said Spinning.