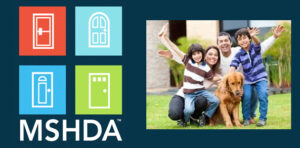 As the pandemic ravaged the state of Michigan for more than two years, many renters found affording monthly payments to be a major financial stressor.
In December 2020, the Michigan State Housing Development Authority announced the COVID Emergency Rental Assistance (CERA) program aimed at helping individuals make their monthly rent payments and remain in their homes.
While the program proved to be a major success, providing relief to over 142,000 residents, as of 9:00 p.m. on June 30, 2022, the program is no longer accepting new applications.
However, resources are available to help renters across the state
Facing eviction can be an intimidating and stressful situation. If you don't know your rights and privileges as a renter in the state of Michigan, it can be even harder. Michigan Legal Help is a free resource to help people learn more about their legal standing, prepare for court proceedings and draft legal documents all without an attorney.
Michigan Legal Help includes resources specific to renters and rental properties, such as:
To access these resources and better understand your rights and options, visit www.michiganlegalhelp.org.
Rental assistance is still a prevalent need for renters in Michigan. These legal resources are a starting point to get the help you need.
The above information is provided for informational purposes only and should not be taken as legal advice or act as a substitute for retaining a licensed attorney.