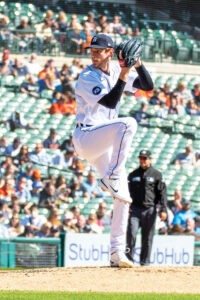 By Larry Arreguin
DETRIOT, MI, October 2, 2022:  The Detroit Tigers continued their winning by defeating the visiting Minnesota Twins, 5-2.  For the tigers, the 2022 Season has been a year of challenges and they finish with a 36-46 record at Comerica Park.  However, they currently have won 8 of the last 10 games and the young players that have been brought up continue to shine.
The Tigers struck first in the 1st inning, on the fielding error by Twins First Baseman Jose Miranda (#64).  Left Fielder Akil Baddoo (#60) scored and Catcher Eric Haase (#13), was safe at first.  He later scored on wild pitch thrown by Simeon Woods-Richardson, Starting Pitcher (#78), giving the Tigers a 2-0 lead.
In the 3rd inning, Haase (#13) hit a 364-foot home run to left field that extended the Tigers lead to 3-0.
In the 5th inning, the Twins scored twice closing the lead to 3-2.  The scoring occurred when Ryan Jeffers (#27), Catcher crossed the plate on bases loaded walk to Carlos Correa (#4), Shortstop, followed by a sacrifice fly hit by Nick Gordon (#1), Second Baseman, that scored Gilberto Celestino (#67), Center Fielder.
In the bottom of the 8th inning, former Tiger Rookie of the Year, Michael Fulmer (#52), Right-Handed Pitcher was on the mound for the Twins and on the 5th pitch thrown, Victor Reyes (#22), Right Fielder nailed the 93 mph slider, 418 feet to right centerfield.  He then gave up a single to Baddoo (#60), followed by a walk to Riley Greene (#31), Center Fielder.  When Miguel Cabrera (#24), Designated Hitter, came up to bat on his final Comerica Park appearance of the season, he singled knocking in Baddoo (#60), extending the led to 5-2.  Tigers All-Star Closer, Gregory Soto (#65), pitched the final inning to secure the win and record his 30th save of the season.
The Tigers will finish the season in Seattle, as they take on the Mariners for 3 games.