On Tuesday, October 11, 2022, Hispanic leaders from across Northeast Ohio joined Orchestra musicians, staff, and board members for a special networking event held at Severance Music Center to celebrate Hispanic Heritage Month.
"Historians tell us 'Demographics is destiny,' and destiny is now upon us with 65 million people who identify as Hispanics in the United States (18.7% of the population)" said José C. Feliciano, Chairman of the Hispanic Roundtable in his welcoming remarks.
Feliciano commended André Grimillet, President and CEO of the Cleveland Orchestra, who speaks Spanish fluently, and the Cleveland Orchestra for continuing and deepening its relationship with the Hispanic community.
The orchestra hosted some 65 Hispanic leaders and their guests at Reinberger Chamber Hall in celebrating the Cleveland Orchestra's Hispanic Heritage leadership event,  which featured a chamber music program, including "La Paloma" and " Mi Viejo San Juan" among other pieces.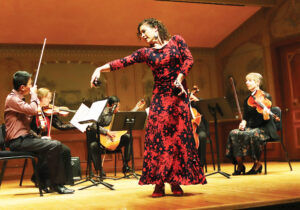 Attendees included: the Vice Consul of Spain, Manuel López, the Consul of México (Roberto Nicolas Vázquez Consul), four judges (Judge José Villanueva, Judge Marilyn Cassidy, Judge Jazmin Torres-Lugo, and Judge Pablo Castro), as well as representatives and leaders from the Hispanic Roundtable, Latinas, the Young Latino Network, the Spanish American Committee, Hilda de Burgos Cultural Center, the Cleveland Ballet (Gladisa Guadalupe), and the Latin Us Theater Group (Monica Torres).
The event was a high energy, spectacular event.
Mr. Grimillet emphasize that this special concert was not a one-off, and the orchestra is developing a meaningful, long-lasting relationship with the Hispanic community. He underscored that "The music is the magic, and we welcome all Hispanics with open arms."
The orchestra is developing a comprehensive outreach program to the Hispanic community.