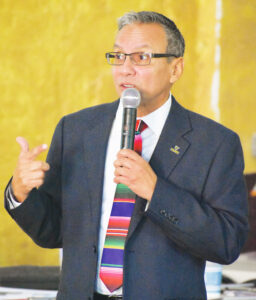 The National Alliance on Mental Health (NAMI) of Greater Toledo held their 7th Annual Latino Leadership Forum at the Sofia Quintero Art and Cultural Center on October 11, 2022.
Another great community event and an amazing turnout from both the Latino/a community and practicing behavioral health professionals.
The Keynote Speaker Louis Guardiola, Jr. MSW, LICDC-CS, LSW presented a recent local survey that revealed both the growing mental health service needs of a rapidly growing Latino/a community.
"As the Lucas County Latinx community continues grow, the mental health system faces challenges in meeting the unique language and culturally specific mental health needs of the Latinx population. For the past 7 years, the NAMI annual forum has been a venue to bring together consumers, community leaders, stakeholders and mental belay professionals/advocates to discuss best practices and disparities." stated Guardiola.
The gaps of resources and services facing the Latino/a Toledo community can no longer be ignored. Some of the top priorities discussed at the forum included creating a path to increase the Behavioral Health Workforce and by aggressively addressing the low proficiency and graduation rate in public schools.
Dr. Rosario V Sánchez, PhD, MSN, RN, SANE-A, also raised similar concerns as Mr. Guardiola. A core group of Latinos/as have already started a conversation in Toledo about next steps and what barriers do Latinos/as face in school, community and at home and begin creating a comprehensive strategy including collaboration with the private and non-private sectors leading to a pathway for change.