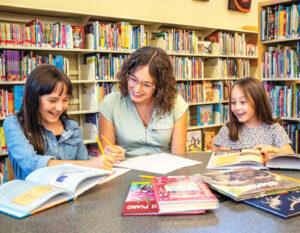 Parents, help your kids finish the first half of the school year strong! The Toledo Library's resources span all ages and subject matter. From their first books to high school homework help, we can help your family every step of the way.
com – Get free on demand tutoring with Tutor.com. There's no appointment needed and tutors are available noon to midnight, seven days a week. Also, receive feedback on reports and essays within 12 hours of submission.
TutorSmart: Does your child need more intensive daily tutoring? The Toledo Library's partnership with TutorSmart allows 1st through 8th grade students to get free tutoring in math and reading. Students have seen months of growth after just a couple sessions.
Book Bundles: Not sure what books fit your child's reading level? Let us help! Book Bundles are curated by our librarians for specific topics, age, and reading levels. Fill out a Book Bundle request and a personalized collection of books will be put together for you to pick up.
Ready-to-Read: We help families prepare their infant, toddler, preschooler, or kindergarten through third grader improve literacy skills. Our Ready to Read program is a parent education initiative provides information and tools needed to build a strong foundation of early literacy skills.
Imagination Library: Your child can get a free book every month from the moment they are born until they turn five. That's up to 60 books to build your child's at-home library. You can register for the Imagination Library at any Toledo Library location or online.
The Library's resources can help make homework time less stressful. Visit toledolibrary.org/prek12 for more information or scan the QR code.