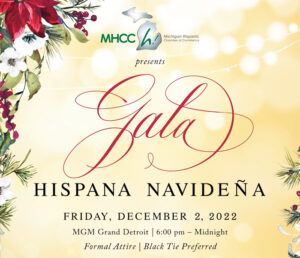 Are you ready for a night full of sabor latino? Michigan Hispanic Chamber of Commerce (MHCC) is looking forward to an exciting evening with cocktails and live music by the unique Sean Blackman Latin Jazz Quartet, followed by dinner and an energetic performance by Armando Vega & 313 Orquestra.
Sean Blackman brings Multi-Ethnic Ensembles & World Music as a guitarist, composer, & producer. His unique World Music style is influenced by his deep passion for traditional ethnic music from around the world and of course, growing up in Detroit — Jazz, Blues, Rock and Soul. Blackman works with internationally renowned performers as well as Detroit's finest and always brings a cross-culture approach to his shows and recordings.
Sonero y Conguero Armando Vega grew up immersed in Latin music and culture in Detroit, Michigan and has since established an enthusiastic following in and beyond Detroit. He received early mentoring from Herman Olivera, famed Grammy nominated singer, and later performed with Olivera before a crowd of 30,000 at the Cleveland Puerto Rican Festival.
The 2022 Gala Hispana Navidena will be held on Friday, December 2, 2022 from 6:00 pm – Midnight at the MGM Grand Detroit. For ticket information visit http://crm.mhcc.org/events.