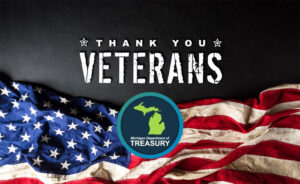 LANSING, Mich: The state of Michigan extends its gratitude to current and former military members by reminding them of the special benefits they may be entitled to receive through the Michigan Department of Treasury.
Current and former military members may be eligible to receive:
"The Michigan Department of Treasury will work closely with our military members past and present to ensure they get the tax benefits and other resources they deserve," State Treasurer Rachael Eubanks said. "If you have questions about any of these benefits, please contact us so we can talk about your options."
Individuals with questions about tax relief and other benefits for current and past military members should go to Michigan.gov/Treasury and click on "Contact." Program-specific phone numbers can be found on the "Contact" webpage.