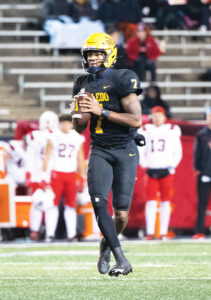 Toledo Rockets 28 VS Ball State Cardinals 21
By Larry Arreguin
TOLEDO, OH, November 8, 2022: With 1:18 left in the fourth quarter, Dequan Finn, Quarterback (#7), found Jamal Turner, Wide Receiver (#9) in the end zone giving the home team Rockets the lead. With the extra point the Rockets led 28-21. That would be enough to hold off the pesky Cardinals, as John Paddock's, Quarterback (#5) pass was intercepted by Maxen Hook, Safety (#25).
Dequan Finn, finished the game with 301 yards passing and 3 touchdowns. Micah Kelly, Running Back (#3) rushed for 85 yards and Jerjuan Newton, Wide Receiver (#1) caught 97 yards receiving. On defense, the Rockets were led by Dejuan Johnson, Defensive Tackle (#1) who had 11 tackles, including one sack.
The Cardinals were led by Carson Steele, Running Back (#33) who rushed for 198 yards and scored 3 touchdowns. On defense, Clayton Coll, Inside Linebacker (#32) and Jaquan Amos, Safety (#16) both had 11 tackles.