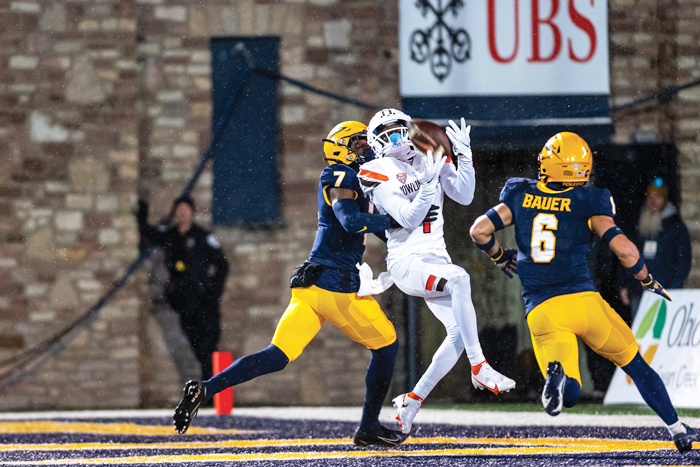 By Larry Arreguin
TOLEDO, OH, Saturday, November 19, 2022:  The snow or freezing temperatures didn't have an impact on the visiting Bowling Green Falcons as they came out and scored twice in the first quarter and held back the Toledo Rockets late challenge, capturing the I-75 trophy and winning 42-35. The win puts them in 2nd in the MAC-East, 1 game behind the Ohio Bobcats.
With less than a minute in regulation, Tucker Gleason, Quarterback (#4), scored for the Rockets and with the extra point they led 35-34. After the kickoff, the Falcons moved the ball to Toledo's 42 yard line and on 3 and 10, Matt McDonald, Quarterback (#3) found Ta'Ron Keith, Running Back (#19), open for a short pass that he turned into the winning score.
The Falcons Offense was led by Matt McDonald, who passed for 395 yards and 1 touchdown. Odieu Hiliare, Wide Receiver (#1) caught 8 passes for a career high 246 yards receiving and scored 2 touchdowns. On the defensive side, Chris Bacon, Safety (#3) and DJ Taylor, Inside Linebacker (#17) each had 8 tackles.
Tucker Gleason had a stellar night, passing for 329 yards and 3 touchdowns and running for 109 yards and 2 touchdowns for the Rockets. Dyontae Johnson, Linebacker (#2) led the team with 10 tackles, including 1 for a sack.
One game remains for each team. BGSU travels to Athens, OH to take on the Bobcats and the Rockets travel to Kalamazoo, MI to take on the Broncos.