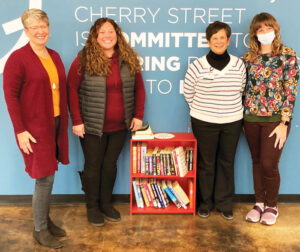 The Owens Community College Big Read project concluded the first phase of its community engagement initiative Tuesday, November 15, 2022 when the final two revitalized Owens-red bookshelves and books were donated to Cherry Street Mission Ministries and Family House in downtown Toledo.
The Big Read committee collected eight bookshelves and more than 600 books from staff, faculty and students during the pandemic. Volunteers revitalized the bookshelves and painted them Owens red. Previous donations were made to Afterschool All-Stars, an after-school program at Reynolds Elementary School, Lucas County Ohio Means Jobs, the Zepf Center and La Posada Family Shelter.
"Cherry Street and Owens Community College have a long history of caring for the educational desire of people in partnership with one another. It is a joy to be able to expand that partnership from the current workforce development certificates that we offer, to the reading program that is now part of our collaboration," Ann Ebbert, CEO/President of Cherry Street Mission Ministries, said.
The final donations were made in November to coincide with National Family Literacy Month.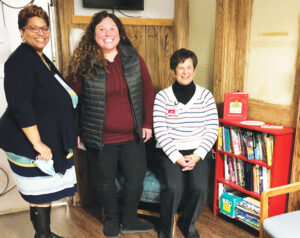 "Receiving a bookshelf and multiple boxes of books for all ages has been a big boost for us at La Posada," said Willi R. Meyer, Activities and Wellness Manager. "These kids can't just run to a friend's house down the street to play so they rely on these books to really explore their imagination and this donation is extremely appreciated."
The Big Read committee, led by Owens English professor Jen Hazel and librarian Jane Berger, is seeking additional books and bookshelf donations of any kind with a goal of launching the second phase of the project in the Findlay and greater Hancock County community in March 2023 during National Reading Month. Donated books also will be used to restock bookshelves in Toledo.
"The community engagement part of our Big Read project is immeasurable," Hazel said. "We know that reading is a key component of education and professional development. It's humbling that we are able to share the gift of reading with so many in our community. And we want to do more in 2023 and the years beyond."
More information about the Big Read project is available at www.owens.edu/humanities/read/.