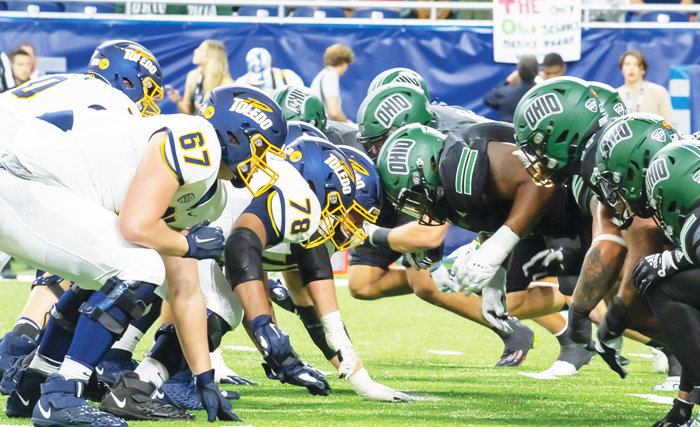 By Larry Arreguin
DETROIT, MI, December 3, 2022:  After losing their final 2 regular season games, the Toledo Rockets were destined to not finish the season with 3 losses in a row. Like many other games this year, the defense came thru and held the Ohio Bobcats to 99 yards rushing and 262 yards of total offense.
On the opening possession, the Rockets went 75 yards in 8 plays and scored on a 29 yard run by Jacquez Stuart, Running Back (#21). Later in the 1st quarter, Freshman sensation Sieh Bangura, Running Back (#22) carried the ball 2 yards for the Bobcats only touchdown of the game, tying the score at 7. Thomas Cluckey, Kicker (#17) would add a 44 yard field goal to give the Rockets a 10-7, lead at the half. In the 4th Quarter, the Rockets would add a touchdown thru the air, when Dequan Finn, Quarterback (#7) hit Demeer Blankumsee, Wide Receiver (#0) in the end zone for a 16 yard touchdown. The 17-7 score would end that way.
Finn was named Offensive Player of the Game, rushing for 86 yards and passing for 154, including a touchdown. Dyontae Johnson, Linebacker (#2) was named Defensive Player of the Game, compiling 8 tackles. The Special Teams MVP was also given to a Rocket – Johnathon Batzke, Punter (#39) who averaged 46.5 yards per punt.
Toledo (8-5) will play Liberty (8-5) in the Roofclaim.com Boca Raton Bowl, on Tuesday December 20th. The Bobcats (9-4) will play Wyoming (7-5) in the Barstool Sports Arizona Bowl, on Friday December 30th.