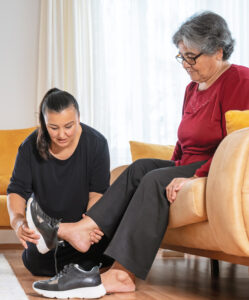 Lansing, MI, November 22, 2022: Every day, millions of Americans help their parents, spouses and other loved ones remain independent and living at home, where most people prefer to age. According to a 2020 AARP survey, 89% of Michigan voters age 50 and over want to avoid ever living in a nursing home. For that to happen, family caregivers are often the first line of support.
Today, more than one in five Americans (21.3 percent) are caregivers, an unpaid role that can be expensive, stressful and isolating. Many family caregivers do so while working full- or part-time jobs and are on call 24/7 to provide care when needed.
To navigate this challenging journey, AARP provides support to America's nearly 48 million family caregivers by sharing resources and strategies, including the following tips for first-time caregivers:
It takes a village, so form a team. Handling the responsibilities alone can lead to burnout.
Determine roles and decide who's in charge.
Find the best way to communicate.
Stay organized with health records, prescriptions, etc.
Consider a mediator for working through difficult subjects.
Care for yourself and give yourself regular breaks.
Friends, employers and relatives also can lend assistance by providing basic support to caregivers—and commonsense solutions—like help at home, flexibility at work, and sharing information on financial and legal tools to make the big responsibilities a little bit easier. For more information, including resources and online tools, visit aarp.org/caregiving.