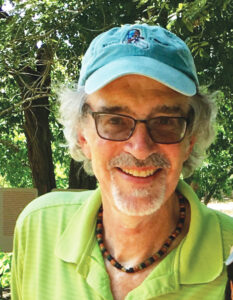 Phillip Craig Alloy, 73, passed away on November 20, 2022, in Columbus, OH from complications of long Covid. He had previously lived in Toledo and Athens.
Phil was born in Toledo on April 13, 1949, the oldest child of Irving and Camille (née Leibovitz) Alloy. He was married to Valerie (Minor) on September 3, 1981 and is survived by his daughter, Sara (Dwaine Williams); mother, Camille Alloy; sister, Jan Alloy; and brother, Mark Alloy (Renee).
Phil was a historian, photographer, documentarian, lover of film and world music, philanthropist, and life-long student. He was a passionate advocate for human and women's rights and befriended people across cultures and continents.
His interests were diverse; he loved Formula 1 and was an auto enthusiast, was an early adopter of reggae music and, with Valerie, held the first ever merchandising contract with Bob Marley and the Wailers, and also joined them on tour.  He promoted reggae gatherings where Red Strip was served. He also loved Tejano music and would assist La Prensa in the production of Tejano dances and festivals.
Phil held a passion for genealogy and, during a trip to Belarus and Russia, learned of the Jewish Partisan Resistance during World War II. He would later return to produce a documentary interviewing survivors, which went on to win awards at several national film festivals.
He was an avid cyclist and member of the Major Taylor Cycling Club. He advocated for awareness of Major Taylor's legacy and worked with Major Taylor's estate to merchandise cycling apparel through his company Alloy Cycling Wear. Late in life he came to love Terriers through his dogs, Jack and Buddy, and he would often work with a national Terrier rescue organization to transport adopted Terriers to their new homes.
Phil was a survivor of liver cancer and received a life saving transplant, and raised awareness and funds through his association with the Pelotonia cycling organization. As he worked on his recovery, he would often say his main goals were to walk Sara down the aisle and to get back on his bike. He did both; walking Sara down the aisle on May 21, 2022 and cycling regularly again up until his passing.
Phil was loved and cherished by family and friends around the world, and his passion, humor and desire to make our world a better place will be missed by all.
Donations in Phil's honor may be made to The Major Taylor Museum or to Pelotonia.
Graveside services were held November 23, at Eagle Point Cemetery, 515 Eagle Point Rd., Rossford, OH 43460. Arrangements by the Robert H. Wick/Wisniewski Funeral Home, (419) 535-5840.
SOURCE: www.wickfh.com