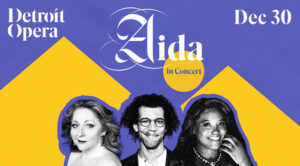 There is hardly any opera in the repertoire that offers as many musical thrills as Aida – from the epic "Triumphal March" to the intimate passion expressed between secret lovers from rival kingdoms. Verdi's magic is his ability to let you feel the grandness of the setting from the music alone.
This one-night-only event is a special opportunity to not only hear this most famous of operas on our stage for the first time since 2013, but also to experience it with two of the most important sopranos of our time: the captivating Angel Blue, singing Aida for the first time in preparation for her first full production of the work at the Royal Opera Covent Garden; and our very own Christine Goerke in the role of Amneris. And that's not even mentioning superstar performers Riccardo Massi, Reginald Smith, Jr.  and Morris Robinson, who complete a truly all-star cast.
Conducted by Jonathan Heyward, one of the most exciting young conductors on the international scene, this is a once-in-a-lifetime opportunity to hear some of the most famous music in opera by an extraordinary group of musicians.
For details  visit www.detroitopera.org
Coming in 2023
Ballet Preljocaj: Swan Lake, Feb. 17-19
Combining Tchaikovsky's musical masterpiece with contemporary arrangements, he reinvents the timeless tale of love, betrayal, seduction, and remorse into a contemporary ecological tragedy.
Xerxes, Mar. 4-12
A fast-paced mix of comedy and drama, this was Handel at his most innovative – and Tazewell Thompson's striking and sumptuous production brings out all its many wonders.