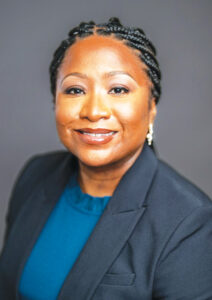 DECEMBER 15, 2022: Cleveland Public Library Board of Trustees announces the confirmation of Jasmine Nicole Fryer as a new board member. On November 22, Fryer was appointed by the Board of Education for the Cleveland Metropolitan School District (CMSD) and is responsible for making appointments to Cleveland Public Library's Board of Trustees.
"Ms. Fryer will be an excellent addition to the Library board of trustees. Her background in education and policy will be a welcome resource," said Maritza Rodriguez, President of the Cleveland Public Library Board of Trustees.
Fryer replaces Teleangé Thomas, who resigned her board seat in October after her appointment to the Port of Cleveland Board of Directors by the Mayor of the City of Cleveland. "The Board will miss Teleangé's warmth and commitment to Cleveland. She was a strong advocate for entrepreneurship and reading," mentions Rodriguez.
A Fulbright Scholar, Fryer holds a Master's degree from the Harris School of Public Policy at The University of Chicago, a Master's degree in Secondary Social Studies Education from the City University of New York, and a Bachelor of Arts, Political Science and Urban Practice and Policy Double Major from the University of Richmond.
"Our vision for the City of Cleveland is a city in which opportunity is within reach for everyone and a Library that empowers its people. I feel we cannot accomplish this vision without diverse points of view about addressing the needs of our community. I appreciate Ms. Fryer's extensive knowledge about the field of education and her international perspective," said Felton Thomas Jr., Executive Director and CEO of Cleveland Public Library.
Fryer currently works as the Chief Strategy Officer for Build. Excel. Sustain. (BES), a national education non-profit. Prior to her work with BES, Fryer was Director of Membership and Future Chiefs at Chiefs for Change, an Education Specialist for the New York State Education Department, and a Policy Analyst with the Nellie Mae Education Foundation in Boston, MA. She has worked, lived, or volunteered in Thailand, China, Morocco, Jordan, and Israel. She began her career as a middle school educator and Teach for America corps member in New York City.
She also serves on the boards of the Level Field Facilities Fund and Teach for America (TFA) Ohio.
"The Library is a unique educational institution," says Jasmine Fryer, incoming Cleveland Public Library Board of Trustees member. "I look forward to working with my fellow trustees to build upon the institution's rich history and continue to innovate around what our community needs to thrive."
Cleveland Public Library was established as a school district library under Ohio law. This law allows the CMSD Board of Education to appoint the Board of Trustees for the Library. Fryer took her oath of office at noon at the Library's December 15 board meeting.