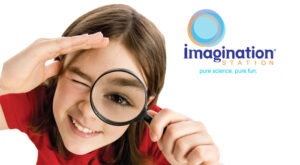 TOLEDO, Ohio: Let your imagination, creativity and excitement run wild at Toledo's Science Center. Spend a day going on a 3D adventure in the KeyBank Discovery Theater, catch science in action during an Extreme Science Demonstration or simply wander around and discover the wonders of science.
EXTENDED THROUGH APRIL
The Science of Guinness World Records
Imagination Station will host The Science of Guinness World Records through April of 2023! Families now have extra time to discover the world's great record holders, what it took to cement their names in the history books and potentially become a part of history yourself! Challenge yourself and others to be the best!
The Science of Guinness World Records is FREE with admission.
Now Showing – KeyBank Discovery Theater
NEW: Oceans: Our Blue Planet 3D
New ocean technology has allowed us to delve further into the unknown than ever before. From the coastal shallows to deeper, more mysterious worlds, we reveal the spectacular stories of life beneath the waves.
Backyard Wilderness 3D
Spanning a seasonal year around a suburban home, the film displays a stunning array of unique wildlife images and behavior – all captured by cameras mounted inside dens and nests, and moving along the forest floor and bond bottom, to reveal its inhabitants in rare and breathtaking intimacy.
Tinkering in IDEA Lab – Papertronics | Free with Admission
All Month Long
With a few simple parts you can make your own electronic greeting card. Copper tape, button battery, LED and a sheet of paper are all you need to make the basic card. Add in your message and creative twists to make the card your own.
January 7 & 8 – Rubik's Cube Competition
The World Cube Association will be hosting a Rubik's Cube tournament over two days at Imagination Station. Watch as some of the best compete against one another to solve the world's most famous puzzle.
At its core, the Rubik's Cube is all about math and the logic behind solving it is based on geometrical symmetry, permutations and combinations. It tests a player's ability to recognize and remember patterns and apply spatial intelligence. Not only is it a fun game, but this puzzle can improve problem-solving skills, concentration and help develop an interest in math.
January 11 – Homeschool Workshops
Seats are available in both the morning and afternoon sessions. Reserve here.
Chemistry: Grades K-3
Become a chemist and discover substances with strange and surprising properties while experimenting with physical and chemical changes as well as exothermic and endothermic chemical reactions.
Robotics: Grades 4-8
Discover the world of robotics as you learn about their functions and parts. Then practice programming a robot to complete a task!
January 16 – School's Out – We're Open! 
Martin Luther King Jr. Day
Imagination Station is open 10am-5pm
January 28 – Gaming Tournament
Calling all gamers! Imagination Station is your next stop for tournament play!  Contestants will bring their own game systems, monitors and controllers to battle it out in Guilty Gear: Strive, Guilty Gear Xrd REV2 and Super Smash Bros. Ultimate. The finale will take place on the GIANT screen of the KeyBank Discovery Theater.
Doors open at 5pm and brackets begin at 5:30pm. Register here.
WHAT:           January Events
WHEN:           All Month Long
WHERE:         Imagination Station, 1 Discovery Way, Toledo, OH 43604
On Saturdays, all Lucas County residents receive a $2 discount and FREE admission for kids, 12 and under with paid adult admission, limit two children per adult.
Imagination Station provides a critical layer of science enrichment by serving as an educational partner for teachers, schools and parents. It's with a thoughtful blend of exhibits, experiences, education and excitement that Imagination Station inspires visitors to pursue STEM careers in Northwest Ohio.