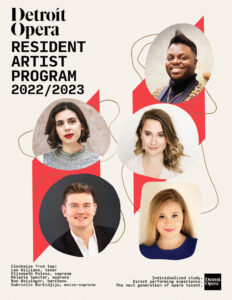 DETROIT, January 5, 2023: The Alger Center at The War Memorial has partnered with Detroit Opera to present a recital series featuring the members of their Resident Artist Program—emerging professional artists who in addition to performing onstage at the Detroit Opera House also perform at nonprofit organizations, businesses, and institutions throughout metro Detroit. For the inaugural War Memorial concert with the Detroit Opera's Resident Artists on January 19, we are thrilled to offer a program of operatic excerpts and song to celebrate the start of a new year! Sopranos Elizabeth Polese and Melanie Spector, mezzo-soprano Gabrielle Barkidjija, tenor Leo Williams, and baritone Ben Reisinger will delight you with some of the most beautiful melodies by Bizet, Donizetti, Mozart, Poulenc, Rossini, and Strauss, among others. The collaborative pianist for the concert will be Nathalie Doucet, Detroit Opera's Head of Music and Director of the Resident Artist Program. The Resident Artists return to The War Memorial this season for concerts on February 10 and April 20.
CONCERT DETAILS 
January 19, 2023, 7pm
The War Memorial, 32 Lake Shore Drive, Grosse Pointe Farms, MI
Tickets are on sale now for the January 19 concert. VIP tickets ($35) include an afterglow with the artists and premium seating for the concert. General admission is $20, and tickets for undergraduate students (with ID) are $15.
The Resident Artists perform two more concerts this season at The War Memorial, on February 10 and April 20.
About The War Memorial
For more than 70 years, The War Memorial has been an arts, culture, patriotic, and community leader organization for Southeast Michigan. The War Memorial annually hosts more than 3,000 performances, classes, and family or community events drawing 250,000 visitors to its campus on the shores of Lake Saint Clair in Grosse Pointe Farms, MI. The War Memorial offers premier hospitality services for community and private gatherings as well as a diverse lineup of innovative programming for all ages. The War Memorial celebrates the ideals of American democracy through its programming while serving as place to honor and remember those who have defended those ideals. The War Memorial is a place for all people with no membership or residency requirements. Follow the organization on Facebook and Instagram (@thewarmemorial) and LinkedIn (thewarmemorial).
About Detroit Opera
Detroit Opera (formerly Michigan Opera Theatre), one of the nation's most vibrant nonprofit arts organizations, aspires to influence the future of opera and dance with a goal of invigorating audiences through new and re-imagined productions, relevant to current times. It is creating an ambitious standard for American opera and dance that emphasizes community, accessibility, artistic risk-taking, and collaboration. Founded in 1971 by the late Dr. David DiChiera, Detroit Opera is led by President and CEO Wayne S. Brown; Yuval Sharon, Gary L. Wasserman Artistic Director; Associate Artistic Director Christine Goerke; Music Director Roberto Kalb; and Board Chairman Ethan Davidson. For more information, visit www.detroitopera.org. Follow the company on Facebook and Instagram (@DetroitOpera), LinkedIn (Detroit Opera), and Twitter (@DetOperaHouse).
About Detroit Opera's Resident Artists
Sopranos Melanie Spector and Elizabeth Polese; mezzo-soprano Gabrielle Barkidjija; tenor Leo Williams, and baritone Ben Reisinger are the inaugural participants in Detroit Opera's 2022–23 Resident Artist Program. In the company's newly reworked residency model, spearheaded by Associate Artistic Director Christine Goerke and Head of Music Nathalie Doucet, all five Resident Artists commit to an intensive program of voice, movement, and language while living in Detroit
from September 2022 through June 2023. The program builds on the strong foundations of the Studio Artist program founded in 2015 by Dr. David DiChiera while embodying the company's forward-looking leadership. In addition to their hands-on training, Resident Artists have opportunities to perform with Detroit Opera in mainstage productions. In keeping with Detroit Opera's longstanding focus on making opera accessible to the surrounding community, Resident Artists are forging direct ties to Detroit through recitals, concerts, and other collaborations with local nonprofit organizations, businesses, and institutions. For more information about this year's Resident Artists, visit https://detroitopera.org/detroit-opera-resident-artists/.