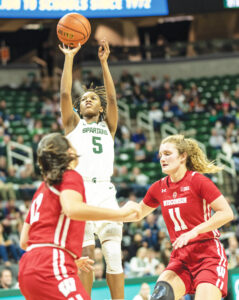 By Larry Arreguin
EAST LANSING, MI, Wednesday, January 11, 2023: The home team Spartans were coming off a tough road loss and were hoping to bounce back with a win over the visiting Badgers.  With 4 minutes remaining, the Spartans saw themselves facing an 8 point deficit down 66-58.  Taiyier Parks, Forward (#14) came off the bench and scored MSU's last 4 points to force overtime.  Unfortunately, the home team couldn't convert and fell to the Badgers 84-80.
Moira Joiner, Guard (#22) led the  Spartans  in scoring with 20.  Parks had 10 rebounds and Dee Dee Hagemann, Guard (#0) led the team with 7 assists. Julia Ayrault contributed 2 block shots for MSU.
For the Badgers, Serah Williams, Forward (#25) had a game high in both points (31) and rebounds (13).  Julie Pospisilova, Guard (#5) led the team with 6 assists.
For the Spartans, the skid continued with a loss on Sunday to in-state rivals #17 Ranked U of M, 70-55.   The Badgers also lost on Sunday to #6 Ranked Indiana 93-56.