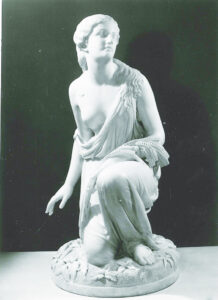 Help further support our conservation efforts today!
Conservators are responsible for the direct care of artworks with the use of technical research, scientific analysis, and fine hand skills. TMA's collections team has identified several artworks that are in need of special assistance.
We've developed the "Adopt an Artwork" program as a way for our supporters to participate in the process of restoration.
Adopting an artwork is a valuable gift to the museum, but also gives the donor "backstage access":
• A short dossier on the work you have selected.
• Time to discuss with the curator or conservator the issues surrounding the object, why it needs restoration, and the conservation process.
• An opportunity to spend time with TMA's conservators and view their work on your selected piece.
• A color photo of the sponsor with the adopted object.
• Recognition as the adoptive sponsor on the gallery label, good for five years.
Adopting an artwork is a simple process. If you, or you and your friends and family or business, select an artwork you'd like to adopt, just follow the steps below:
1. Choose the object you would like to adopt.
2. Contact kmessa@toledomuseum.org or 419-255-8000 x7240 and tell her which artwork you've chosen and determine the payment method that works best for you.
3. Decide whether you'd like to be credited, or how you'd like to be recognized.
4. We will send you the dossier packet on your selected artwork, and arrange a time for you to visit TMA to view the conservation process
Pictured is a sculpture by artist Randolph Rogers (American, 1825-1892). The pinky finger of this sculpture broke off and was repaired sometime before the sculpture entered the Museum's collection. The previous repair involved materials that have aged poorly and are visible to the naked eye. Conservators will remove any remaining old, discolored repair materials from the break edges of the finger and the hand of the sculpture in preparation for properly repairing it with adhesives that have better aging properties.  They will fill any losses of marble and in paint as necessary to match the surrounding stone. In addition, the sculpture has cracks that will need to be monitored over time to determine if they are expanding and need further attention.