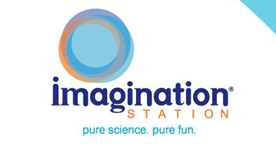 TOLEDO, Ohio – Children dream BIG – dreams of space travel, building robots, designing video games, becoming life-saving doctors. Small experiences spark these passions – support, encouragement and inspiration make them a reality. This is especially true for girls and women who are excited about science, technology, engineering, art and math (STEAM).
Women have made extraordinary strides in these fields, but still only make up about 30% of the STEAM workforce. Imagination Station is on a mission to create and support STEAM-strong girls and is excited to host Girl Power! – presented by Comfort Line FiberFrame and Troy Electric.
The eighth annual STEAM career day is designed to connect girls in grades 3-8, to women who are making a difference in their fields. Attendees will roll up their sleeves and participate in dozens of activities and have the opportunity to meet successful female role models who are challenging stereotypes in a wide variety of careers.
"Girl Power! has so many moments of connection and inspiration," said Lori Hauser, chief executive officer. "Many times, girls have a hard time 'seeing' themselves in these positions. This event brings a diverse group of women under one roof to illustrate that these opportunities are attainable. Girl Power! will prove that anything is possible, regardless of the statistics."
Along with a panel discussion, attendees will also be inspired by K. Renee Horton, Ph.D., who turned her lifelong love of science and NASA into a career.  Dr. Horton refers to herself as a "hearing impaired black physicist, mother of three, that's who I am, that's who I be, but that's not everything." In her day job,Dr. Horton serves as a NASA Space Launch System (SLS) Quality Engineer at Michoud Assembly Facility (MAF) in New Orleans. She is an advocate for diversity and inclusion STEAM, and works diligently in the community for STEAM education and outreach.
Girl Power! tickets are on sale now and include the keynote speaker, a variety of workshops, additional hands-on activities, a drawstring bag and admission to the science center.
Tickets can be purchased here.
WHAT:           Girl Power! presented by Comfort Line FiberFrame and Troy Electric
WHEN:           Saturday, March 11, 2023 | 10am-5pm
WHERE:         Imagination Station | 1 Discovery Way, Toledo, OH 43604
Imagination Station provides a critical layer of science enrichment by serving as an educational partner for teachers, schools and parents. It's with a thoughtful blend of exhibits, experiences, education and excitement that Imagination Station inspires visitors to pursue STEM careers in Northwest Ohio.