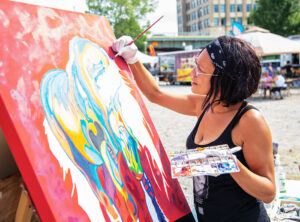 FireFish Arts is pleased to announce that the 2023 annual FireFish Festival will take place this year on Saturday, September 16th. Serving as the culmination and celebration of all FireFish Art's programs, this always FREE event once again promises unique art installations, music, food, fun, fire – and the much anticipated and signature burning of the FireFish with its parade, pageantry, and performance.
"We were excited to add some new elements in the 2022 FireFish Festival that engaged more community members, and we look to grow those at this year's event. Look for even more opportunities in 2023 for youth and community members to make art for the festival and to participate in the festival parade," according to Candice Pettigrew Ruckman Operations & Marketing Director.
Additional year-round programming leads to the much-anticipated annual festival, and features arts programming with the Lorain community and local youth at our monthly "Fire It Up!" Broadway Block Parties on the first Fridays this summer. All this programming includes  Lorain and Lorain County visual artists and performers, with the support of the FireFish Arts Advisory Board. "While the FireFish Festival is the annual celebration of all of the work of FireFish Arts, the actual work of FireFish takes place year-round, bringing together Lorain artists, youth, and community members," states Artistic Director Joan Perch.
All FireFish Arts programs are designed to bring outstanding arts programs and events to Lorain in partnership with Lorain community businesses, arts and creative partners, and the City of Lorain. "Our goal is to work within the community to utilize the power of the arts to transform lives and to transform this community," says Board President Frank DeTillio. "It is becoming more and more understood that through creative placemaking, the arts and economic and civic development go hand-in-hand."
FireFish Programs for 2023
ArtSong II – Friday, April 21, 2023
This premier special event fundraiser pairs classical pianist Angelin Chang with video projection artist Kevin Jackson in a spellbinding "duet" of disparate art forms performed at the Church of the Redeemer in downtown Lorain. The result of this special collaboration is a one-time immersive performance of classical piano merged with contemporary digital projection mapping art that many have called one of the most memorable arts experiences of their lives.
Dr. Chang is not only the head of the keyboard studies program at Cleveland State University; she is also a world-class performing artist and music educator with a Grammy to her credit, performing across the world and serving as an artist in residence at the Kennedy Center in D.C. all over the world. Kevin Jackson's expertise as a visual media artist has evolved from the early years of audio/video to a profound interest in combining Video Projection Mapping Technology and obscure imagery to create dynamic visuals across the globe. A Cleveland native, Jackson has participated in Cleveland and Buffalo film projects winning multiple awards including best editing and best film.
Watch a video from the first ArtSong at www.youtube.com/watch?v=dj4YyTppRtA
Portrait of a City Project, Feb-June 2023
The Lorain: Portrait of a City project is an arts education and enrichment program that emphasizes arts-based storytelling related to the history of Lorain, its' people, and the community. Community youth work alongside working artists to create art that celebrates the spirit of Lorain and its diverse people. Art created for these projects will be featured at the 2023 FireFish Festival and Alley Project events.
Fire It Up! Block Parties First Fridays-Summer, 2023
FireFish Arts continues its programming history in the newly energized "5th Street Alley" as an "after party" following Main Street Lorain's Broadway Block Party First Friday events. Always featuring fire performances by Ohio Burn Unit, these "hot" events help to energize an exciting new urban space with visual art, comedy, projections, and music, in collaboration with local artists and businesses.
The Alley Project: Broadway's Back Door
In 2021-2022 FireFish Arts worked with Main Street Lorain to enhance their new Broadway Block Parties on First Fridays in the summer. Culminating in a final 5th Street "Alley Project," the one-block alley adjacent to Broadway Avenue was temporarily activated with video projections, fire performance, temporary art/garden installations, music, and more.
Inspired by the event's success, "The Alley Project: Broadway's Back Door" will work to create a permanent and flexible gathering space designed to serve the entire community as a "park/path" for performances, markets, gatherings, and more.
FireFish @ Art in the Park – Summer, 2023 (five parks)
In collaboration with Lorain's new Art in the Park Project led by local activities Gloria Buxton, FireFish Arts presents interactive art events for youth and families, including an opportunity to help make a work of art for the FireFish Festival. Free youth arts activities will take place in the different local City of Lorain Parks. The dates will be announced soon.