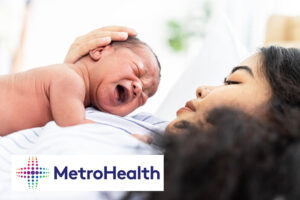 Cleveland, OH, January17,2023: MetroHealth opened its state-of-the-art Birthing Center and Neonatal Intensive Care Unit (NICU) to expectant mothers and their families January 25, 2022, as part of the health system's ongoing $1 billion transformation of its main campus in Cleveland's Clark-Fulton neighborhood.
"MetroHealth's comprehensive obstetrical program is among the largest, most respected in the region. Our beautiful new state-of-the-art birthing center is a reflection of the high-quality care that will take place there," said Jennifer Bailit, MD, MPH, Chief Medical Officer, Inpatient Services. "We are proud to welcome our community to this extraordinary space as we continue to provide personalized, compassionate pregnancy care designed to meet your needs, no matter how complicated or straightforward."
The center's 10 birthing rooms offer flexible options during labor. Natural light and patient-controlled mood lighting in calming colors help optimize the space for each patient. Each labor and delivery room is equipped with an advanced wireless system for fetal monitoring. There is also dedicated space for newborn care within the birthing rooms.
Each of the 27 private post-partum patient rooms is furnished with comfortable seating and pull-out beds for overnight guests. All rooms have private, spacious showers. The labor and delivery rooms are located in the same floor as postpartum rooms, keeping the area secure.
"Everything we do at MetroHealth is driven by our commitment to provide the finest patient-centered care and to create high-quality outcomes for everyone. That is how we will reduce health inequities," said MetroHealth President & CEO Airica Steed, Ed.D, RN, MBA, FACHE. "Our patients and this community deserve nothing less than the best care, and our exceptional caregivers are committed to delivering it. Our new Birthing Center and NICU are making a statement: Quality medical care is for everyone."
The new, advanced NICU provides for babies who need more complex care in the moments and days following their birth. Each of the private NICU rooms includes a bathroom and overnight accommodations for families. The NICU space is designed to provide a calming atmosphere, including floor-to-ceiling windows for bright, natural light. A specialized baby nutrition room provides a space for specially preparing breastmilk and other nutrients for premature babies.
"This is an historic moment for MetroHealth and the families and women we serve," said Donald "Chip" Wiper III, MD, Chair of the Department of Obstetrics and Gynecology. "Our brand-new birthing center will combine our long history of nationally recognized obstetrical care with the newest and most beautiful, comfortable and family-oriented labor and delivery in Northeast Ohio. Our mission is to honor both safety and a woman's important personal choices in birth plans and the environment in which a family wants to bring a new baby into the world. Our experienced team of physicians, nurses, advanced practice providers and dedicated staff will provide that and more in this state-of-art space."
For more information, visit metrohealth.org.