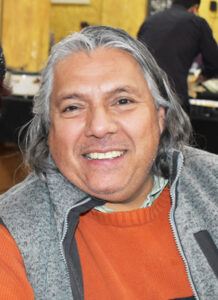 By La Prensa Staff
Toledo city transportation officials outlined the 2024 timeline and other aspects of a Broadway Corridor reconstruction project during a public meeting Thursday, February 9, 2023 held at the Sofia Quintero Art and Cultural Center (SQACC).
More than 40 people attended the session to learn more about the $7.2 million project, which is slated to begin next spring and wrap up at the end of the road construction season in the fall. The roadwork, talked about for several years and spearheaded by the Broadway Corridor Coalition, is designed to slow down traffic and make it safer for pedestrians in the South End.
"Any improvement is good and I like that they're finally doing something here on Broadway because it's such a busy street," said Joe Balderas, SQACC's master gardener. "Between 8 a.m. and 5 p.m., it's just a madhouse, everybody either going to work or coming from work. I think it's pretty dangerous sometimes because these people are flying, late for work or rushing home."
"I think it's fantastic. It's going to beautify the Hispanic corridor and when people drive by here, it's just going to make it much more impressive to see what we're doing over here," said Tony Rios of Voces Latinos, whose TV studios now reside in a Broadway building he and his wife have been working to improve.
Broadway will be stripped to its base and completely rebuilt, because there are some older sewers underneath that also need repairs. The project also features three rectangular rapid flashing beacons, or RRFB's, pedestrian-activated flashing devices that will allow people to more safely cross a busy street. Those will be located near the park, SQACC, and Western Ave.
According to transportation officials, traffic will be maintained one lane in each direction during road reconstruction. When finished, the current four lane road will be reduced to three lanes, one in each direction with a middle turn lane. Medians will be placed throughout the construction zone, which stretches from Western Ave. to approximately Danny Thomas Park.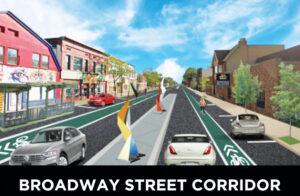 Even though the Broadway Corridor is one of the main gateways to downtown Toledo, Latino neighborhood leaders in the Old South End have had to self-advocate for improvements, such as   brighter LED lighting to cut down on crime or the road rebuilding project about to get underway.
"Areas of low income and poverty, they really are the last to get a dollar," noted Balderas. "I'm glad they finally realized we are a part of Toledo. We're not off to the side to be forgotten. I think it's good recognition that somebody finally realized that 'Hey, they haven't left' and they're trying to do everything they can with pennies to make it better."
The Toledo Design Collective, a nonprofit group of planners, designers, and architects, led an effort several years ago to update the Old South End master plan, coming up with the Broadway Mile Concept in collaboration with the Broadway Corridor Coalition. The original plan called for making that area a more walkable neighborhood with an artistic nod to its Latino roots.
The Toledo Arts Commission is leading a selection process for a $150,000 public art installation to be part of the neighborhood's improvements. 70 proposals from across the country have been whittled to four concepts: one each from artists in New York City, Los Angeles, Florida, and Toledo. Those attending the meeting got to vote for their favorite set of sculptures, each with a Latino flare, ranging from colorful steel sculptures to be placed in median strips to fiberglass birds that would serve as shelters at crosswalks.
EDITOR''S NOTE: The metro-Corridor [parts of South Broadway Street] contains Latino owned (or serving) businesses and organizations such as Sofia Quintero Art and Cultural Center (SQACC), El Rincón restaurant, Voces Latinas, Farm Labor Organizing Committee (FLOC), José Martínez Memorial Galería, Providence Center, La Paloma Bakery, Tex-Mex Tortillería, San Marcos restaurant, and Nuestra Familia Community Projects,