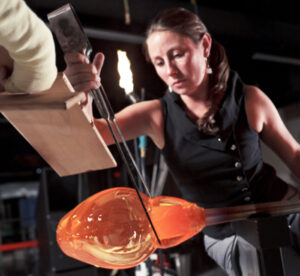 TOLEDO, Ohio: The Toledo Museum of Art (TMA) named Charlotte Potter Kasic as the 54th Guest Artist Pavilion Project (GAPP) Artist in Residence, a program that brings the world's most influential and up-and-coming glass artists to Toledo, Ohio. Kasic will be at TMA Feb. 15-24, 2023 creating new work in glass and sharing her processes with the public. On Feb. 17 at 7 p.m., the Virginia-based artist will give a talk on her inspiration and artwork at the TMA Glass Pavilion. The talk is free and open to the public.
Kasic is a renowned artist whose work extends beyond studio glass and includes installation, sculpture and performance. The Vermont native often pays homage to traditional glass techniques or industries that have used glass and presents commentary on modern-day practices in her work. "I gravitate toward glass because of its ability to hold a dual identity. It is both hot and cold, fragile and strong and elastic and brittle," said Kasic. "GAPP will allow me to create in Toledo, the glass capital of the world, and foster discussions about my creative process, the numerous layers of my artistic practice and the importance of contemporary glass."
Kasic's passion for pairing glass with light, smell, taste and other sensory elements fuels her creativity. A pioneer of performance glass, she co-founded two performance glass troupes, Cirque de Verre and the Glass Theater, and helped to spearhead signature glass performances as the founding programming director and glass studio manager at the Chrysler Museum of Art's Perry Glass Studio in Norfolk, Va. She was also the director of Grand Point Weird, a contemporary art component to the Grand Point North Music Festival in Burlington, Vt.
Kasic is also committed to bringing contemporary art to the public and providing avenues for enrichment and learning. She has taught glass and new media courses at universities and summer programs such as Penland School of Craft (Bakersville, N.C.) and the Oxbow School (Napa, Calif.), and she founded the Perry Glass Studio's assistantship program — an educational opportunity for emerging artists who have completed undergraduate studies in glass or are pursuing a professional career working in glass. She was also a founding member of Norfolk, Va.'s NEON District and the corresponding festival that encourages public art displays and other opportunities for local artists. In 2017, Kasic was co-chair of the Glass Art Society Conference.
"Charlotte has made an indelible impact on the field of contemporary art with her innovative work in glass as both a performative and conceptual material," said Diane Wright, TMA's senior curator of glass and contemporary craft. "Since the Glass Pavilion's opening in 2006, the Toledo Museum of Art has operated as both the home of one of the world's great glass collections and as a working studio that encourages experimentation with few limitations. Charlotte embodies the dynamic spirit of the residency project, and we look forward to what she will accomplish while here in Toledo."
Kasic holds a Master of Fine Arts in glass from the Rhode Island School of Design (Providence, R.I.) and a Bachelor of Fine Arts in art with a minor in dance from Alfred University (Alfred, N.Y.). Her work has been exhibited internationally at galleries, museums and universities and is included in numerous public museum and private permanent collections.
Toledo Museum of Art
The Toledo Museum of Art is a nonprofit arts institution funded through individual donations, foundation grants, corporate sponsorships and investments.
Admission to the Museum is always free, but visitors are required to register at the Information Desks upon arrival. The Museum is open Wednesdays, Thursdays and Sundays from 11 a.m.–5 p.m. and 11 a.m.–8 p.m. Fridays and Saturdays. The Museum is closed on Mondays and Tuesdays and on certain holidays.
The Museum is located at 2445 Monroe St. at Scottwood Avenue, just west of the downtown business district and one block off I-75, with exit designations posted. For general information, visitors can call 419-255-8000 or 800-644-6862 or visit toledomuseum.org.