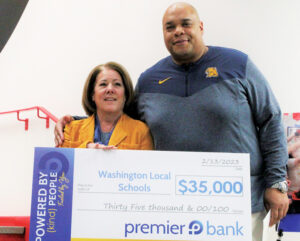 Defiance, OH, February 17, 2023: Premier Bank has pledged $35,000 to the Washington Local Schools Foundation. The funds will be used to support the Learn More After Four program.
"We have an urgent need to engage students of all abilities in after-school enrichment. A lack of after-school programming can contribute to loss of learning, decreased self-confidence and feelings of isolation," explained Dr. Katie Peters, Director of Communications, Washington Local Schools. "By partnering with our community partners like Premier Bank, we can offer "Learn More After Four" experiences, ensuring that our students have ample opportunity to continue their growth after the last school bell rings."
"We are proud to participate in this exciting initiative with Washington Local Schools Foundation to allow their students to achieve personal excellence, so that they in turn can serve the larger community," said Trish Gelsomino, Foundation Giving Coordinator, Premier Bank. "Working together we can make our community stronger!"
For more information regarding the Washington Local Schools Foundation please visit WLSFoundation.org or call 419-308-2546.
About Premier Bank
Premier Bank, headquartered in Youngstown Ohio, operates 75 branches and 12 loan offices in Ohio, Michigan, Indiana, Pennsylvania and West Virginia (West Virginia office operates as Home Savings Bank) and serves clients through a team of wealth professionals dedicated to each community banking branch. The holding company for Premier Bank and First Insurance Group is Premier Financial Corp. (Nasdaq: PFC), headquartered in Defiance, Ohio. First Insurance Group is a full-service insurance agency with nine offices in Ohio. For more information, visit the company's website at YourPremierBank.com.