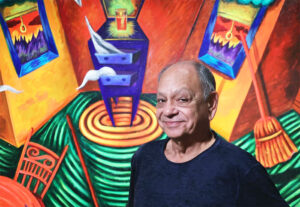 The Penny Stamps Distinguished Speaker Series brings respected leaders and innovators from a broad spectrum of creative fields to the historic Michigan Theater in Ann Arbor. Cheech Marin, known as one half of the comedy duo Cheech & Chong, is a leading advocate for Chicano art. Cheech Marin: Perspectives of an Art Advocate will take place Thursday, March 9, 2023, and is free, non-ticketed, and open to the public.
For more information visit pennystampsevents.org.
This event will also stream online at https://stamps.umich.edu/events/cheech-marin#video.
The Cheech Marin Center for Chicano Art & Culture
Cheech began developing a private collection of Chicano art in the mid 1930's. Since then, his collection has been featured in over a dozen exhibitions at more than 50 museums in the U.S. His vast collection of paintings, drawings, prints, mixed-media, photography, and sculptures now serves as the heart of The Cheech Marin Center for Chicano Art & Culture of Riverside Art Museum.
The Cheech opened is doors in June 2022. Located in Southern California,  it is a public-private partnership between Riverside Art Museum, the City of Riverside, and comedian Cheech Marin.
The Cheech is a catalyst for the grassroots arts scene in Riverside that encourages emerging Latino artists throughout California's Inland Empire. For more information visit https://riverside-artmuseum.org/visit/the-cheech-marin-center-for-chicano-art-culture.