By Larry Arreguin
EAST LANSING, MI, March 4, 2023: The final home game of the season for MSU men's basketball was one to celebrate Seniors Malik Hall, Forward (#25), Tyson Walker, Guard (#2) and Jason Whitens, Guard (#43). The trio started the game and jumped off to a 17-4 lead over the visiting Ohio State Buckeyes Buckeyes.
Going into the half the lead was 43-34 and it was looking like the home team would coast to their 19th victory of the season. However, like most teams in the Big Ten, no game is over until the clock ticks 0:00 and OSU fought back to get within 3 points (64-67), with with a little over 5 minutes remaining. AJ Hoggard, Guard (#11) was determined to win one for the Seniors and went on to score 11 of his game high 23 points; including 9 from the free throw line. The final score was 84-78. Hoggard also led the Spartans in assists with 7, while Maddy Sissoko, Center (#22) led the team with 7 rebounds.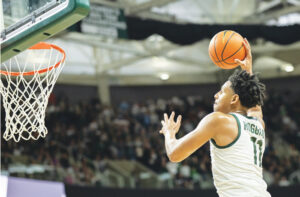 Ohio State was led in scoring by Brice Sensabaugh, Forward (#10) who scored 21 points. Justice Seeing, Forward (#14) led the team in rebounds and assists, with 9 and 7 respectively.
Up next for both teams is the Big Ten Tournament that will be played at the United Center in Chicago. OSU will face Wisconsin on Wednesday, in game 1. While the Spartans will face the winner of the Game 4 (Game 1 winner vs. Iowa).