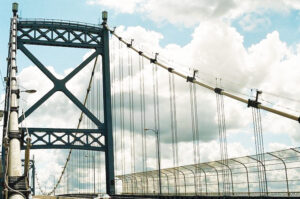 Queried: Should fencing be installed across entire bridge?
TOLEDO, March 9, 2023: At 3:50 PM today, Toledo Fire & Rescue (TFRD) crews were dispatched to 0 Woodville Rd. after several 911 calls were made stating 'that a male had jumped from the Anthony Wayne Bridge (High Level) into the Maumee River,' [785.0 Feet, or 239.3 Meters].
The first fire crew arrived on scene at 3:53 PM and reported that there was one adult male in the middle of the river attempting to swim towards the east side. The male appeared to go underwater several times and was last seen on the water surface at 4:00 PM when he submerged and did not come back up.
With the assistance of the U.S. Coast Guard Toledo Station, the TFRD water rescue team began searching the area around the last known location of the victim. A drone was used to search the water surface as well as mark the last known location. Divers entered the water during the operation but due to strong currents and unsafe conditions had to abandon any subsurface search.
At 5:04 PM, it was determined that too much time had elapsed for a successful rescue, at which time, the operation moved from rescue to recovery efforts.
For the next several hours, search crews used a subsurface sonar scanner, making several passes over a large search area with no success. At 7:25 PM the recovery efforts were terminated for the night as search and recovery efforts were hindered by darkness and impending weather.
Future updates will be provided by TFRD when becoming available.
EDITOR'S NOTE: A fence needs to be erected on the bridge, especially above the Maumee River. In San Francisco, the number of jumps off the Golden Gate Bridge dropped dramatically after fence was installed.