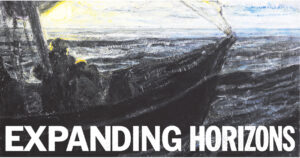 Beginning March 18, 2023 | New Media Gallery
It's time to expand our understanding of history. This installation celebrates, complicates, and above all, aims to instill curiosity and inquiry about American art. Expanding Horizons: The Evolving Character of a Nation features more than 80 objects from TMA's collection, exploring understudied narratives, confronting misconceptions, putting select works in conversation with each other and inviting visitors to share feedback that will help shape future installations going forward.
Expanding Horizons: The Evolving Character of a Nation explores national identity and character through two themes: mythmaking and religion. Both reflect the types of American art that TMA has acquired over the institution's 100-year history. American culture and history are filled with myths—stories that, while they may contain certain aspects of the truth, are not entirely true. These myths are significant: they stir our emotions, shape our values, and even define what it means to be a citizen of the United States. Comparatively, religion has had an undeniable influence on American history, politics, and culture. It offers a powerful lens for discovering a multiplicity of American stories and voices. This lens reveals narratives that have often been overlooked in discussions of American art before 1945, including women's voices, migrant experiences, and perspectives from communities of color. Explore new ways of understanding complex histories through American art
Expanding Horizons: The Evolving Character of a Nation is organized by the Toledo Museum of Art and curated by Erin Corrales-Diaz, curator of American art. This exhibition is sponsored locally by season sponsor ProMedica and presenting sponsors Susan and Tom Palmer, with additional support from National Endowment for the Humanities, Rita Barbour Kern Foundation, Samuel H. Kress Foundation, the Terra Foundation for American Art, Donald F. Melhorn, Jr., and the Ohio Arts Council (OAC).
For more information visit www.toledomuseum.org.