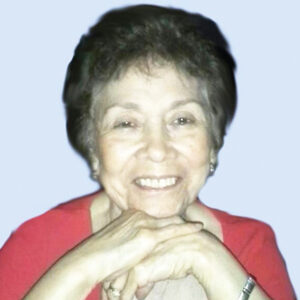 Estella Sánchez Rosales
12/13/1936 – 03/15/202
Estella was born in Temple, Texas to Canuto, Simona (Martínez) Sánchez on December 13, 1936. She was a dedicated mother, grandmother, great-grandmother and great-great-grandmother, sister, aunt and friend; she peacefully passed away at her home in Perrysburg, OH surrounded by family and prayer on March 15, 2023.
Estella was a devoted Catholic and a member of Immaculate Conception Catholic Church in Toledo. She committed to her faith by supporting the church, saying the rosary, attending mass and praying her daily devotions. She lived her faith in words and actions.
Estella worked for Lee Winters florist for 17 years. She retired from Hunt's Wesson June of 2001. In retirement she enjoyed spending time with family and friends.
Through the years Estella enjoyed listening and dancing to Tejano, conjunto, and mariachi music. She loved to dance cumbias. Estella's hobbies include cooking, gardening and travel. Most of all she enjoyed spending time with her family.
Estella is survived by her brother, José (Ramona) Sánchez; daughters, Sylvia (Roman) González, Diana (Rick) Mills and Stella Marie Cervantes; her grandchildren, Maria (Dwayne) Porteous, Miguel Flores, Sr., José (Christina) Flores, Jason (Jessica) Gonzáles, Elena (Elliot) Alvarado, Antonio (Amanda) Ramirez, Krista (Marty) Calderon, Breana Elias and Christine Gonzáles. She is also survived by 26 great-grandchildren; and 4 great-great-grandchildren.
Estella was proceeded in death by her parents; her brothers, Jessie Sanchez, Marcelino and Raúl Guardiola.
Memorial contributions can be made to Immaculate Conception Church and the Outreach Food Pantry.
SOURCE: Coylefuneralhome.com