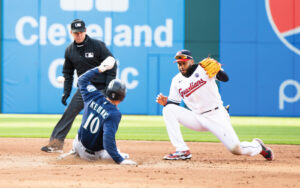 By Larry Arreguin
CLEVELAND, OH – At the start of the game, the sun was shining bright at Progressive Field for the Guardians Home Opener; by the end of the game though, the cold had settled in and the home team would lose to the Mariners 5-3. Aaron Civale, Right-Handed Pitcher (#43) took the loss, pitching 5 2/3 innings and giving up 4 runs.
Cleveland started off strong, when Amed Rosario, Shortstop (#1) scored on a wild pitch by Logan Gilbert, Right-Handed Pitcher (#36) in the 1st inning. Rosario, scored again in the 3rd when Josh Bell, Designated Hitter (#55) singled, making the score 2-0. The Guardians final run was scored in the 4th, after Andres Gimenez, Second Baseman (#0) stole second and then was knocked in by Myles Straw, Center Fielder (#7).
The rest of the weekend was split, Cleveland winning on Sunday but losing on Saturday. Up next for the Guardians is a rematch of last year's American League Division Series, when they host the Yankees for 3 games followed by a road trip to Washington, DC and then Detroit.