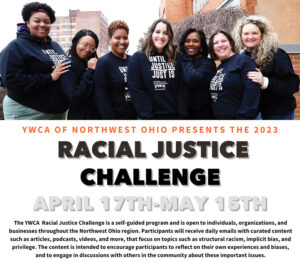 Toledo, OH: The YWCA of Northwest Ohio is proud to announce the launch of its Racial Justice Challenge, a transformative learning experience designed to promote awareness, understanding, and action around issues of racism and discrimination. This initiative is a part of the YWCA's ongoing commitment to advancing racial equity and promoting social justice in our community.
The Racial Justice Challenge is a self-guided program that will run from April 17, 2023 to May 15, 2023, and is open to individuals, organizations, and businesses throughout the Northwest Ohio region. Participants will receive daily emails with curated content such as articles, podcasts, videos, and more, that focus on topics such as structural racism, implicit bias, and privilege. The content is intended to encourage participants to reflect on their own experiences and biases, and to engage in discussions with others in the community about these important issues.
"We believe that it is critical to have open, honest conversations about race and racism ifwe are going to create a more just and equitable society," said Alexii Collins, Racial Justice Director at the YWCA of Northwest Ohio. "The Racial Justice Challenge is an opportunity for individuals and organizations to engage in this work and to deepen their understanding of the issues at hand. We hope that this initiative will spark meaningful change in our community and beyond."
YWCA wants to thank and acknowledge Dr. Eddie Moore Jr., Debby Irving, and Dr. Marguerite Penick for their leadership in the interest of racial equity as exhibited in the formerly known as 21-Day Racial Equity and Habit Building Challenge and the movement they helped to initiate. YWCA's content is independently designed, written, and curated by YWCA staff as part of racial equity and social justice programs offered to the community.
For more information and to register for the YWCA of Northwest Ohio's Racial Justice Challenge, please visit https://www.ywcanwo.org/what-were-doing/racial-justice/ or bit.ly/YWCACHALLENGE
The YWCA of Northwest Ohio, working to meet the diverse needs of women and the elimination of racism, serves more than 15,000 individuals each year through various programs. The programs include: Domestic Violence Shelter, Rape Crisis Center, Child Care Resource and Referral, Youth Development, Long Term Housing, and Healthy Connections.