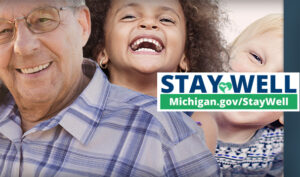 LANSING, May 12, 2023: Gov. Gretchen Whitmer and the Michigan Department of Health and Human Services (MDHHS) have joined mental health advocates around the nation to recognize May as Mental Health Awareness Month. Observed nationally since 1949, Mental Health Awareness Month promotes mental health education and support to increase individual well-being and decrease the stigma often associated with seeking help for mental illness.
"Everyone should have access to mental health services and resources when they need them and where they need them," said Elizabeth Hertel, MDHHS director. "MDHHS is proud to continue to offer resources to support families experiencing concerns with mental health, substance use or other mental health-related issues."
MDHHS is dedicated to addressing mental health care as part of a larger public health approach and ensuring Michigan families have access to support when dealing with personal and community-related crises and tragedies.
The department is diligently working on a variety of initiatives to expand access and eligibility to programs that support mental health and well-being. Last year, MDHHS increased its investment in children's behavioral health services by developing a new Bureau of Children's Coordinated Health Policy and Supports. Since its inception, the bureau has developed and issued $6 million in grants for community mental health service programs to explore innovative ways to support children and families in crisis, and for efforts to expand workforce to support the growing demand for mental health services across the state.
Additionally, the new bureau is overseeing efforts to improve behavioral health supports for youth and families with involvement in the child welfare system. These efforts are highlighting the reality that consistent access to care and opportunities for timely, effective interventions are essential to family preservation and successful reunification in the community.
"We know the negative emotional impacts of a disaster can last for months or years," said Dr. Debra Pinals, MDHHS medical director for behavioral health and forensic programs. "Everyone recovers differently, and it can take time to regain emotional strength and equilibrium after all the stress, changes and loss we've been through. At the same time, we can be strengthened by the knowledge of all that we have been able to achieve during this time."
Over the past two years, MDHHS and its partners have implemented three statewide lines to ensure that mental health or substance use help for all Michiganders is just a phone call away: 988 Suicide and Crisis Lifeline, Michigan Peer Warmline and Frontline Strong Together Crisis Line. Cumulatively, almost 11,000 callers a month have received help from these three lines.
The 988 Suicide and Crisis Lifeline, formerly known as the National Suicide Prevention Lifeline, is a free 24/7 line that people can use confidentially and anonymously through call, text or chat at 988lifeline.org. 988 is available to provide support to anyone who may be experiencing emotional distress or struggling with mental health or substance use concerns. It is also a resource for family members or friends who may be concerned about a loved one's mental health.
The Michigan Peer Warmline, 88-PEER-753 (888-733-7753), is a statewide warmline for Michiganders living with persistent mental health and/or substance use conditions. The Warmline connects individuals with certified peer support specialists who have lived experiences of behavioral health issues, trauma or personal crises, and are trained to support and empower the callers.  All calls are anonymous and the warmline operates seven days a week from 10 a.m. to 2 a.m.
Frontline Strong Together, 833-34-STRONG, is a new service funded through MDHHS that provides 24/7 support to first responders (police, EMS, fire, dispatch and corrections) and their families through a crisis line, specialty treatment and referrals. This service was developed in a partnership between first responder professional unions, Wayne State University and Michigan Crisis and Access Line staff.
Mental health in the workplace has also taken on new significance in the wake of pandemic work-life challenges. The MDHHS Stay Well program recently created a collection of resources to help plan, implement and sustain wellness programs for employees within organizations, and is working closely with Labor and Economic Opportunity as they expand offerings attending to workplace mental health. Mental Wellness Tools for Organizations is available on the Stay Well website.
According to the ongoing Household Pulse Survey conducted by the Centers for Disease Control and Prevention and the U.S. Census Bureau, approximately 30% of Michigan adults reported experiencing symptoms of anxiety or depression during the most recent reporting period (March 29 – April 10, 2023). The Pulse Survey also found more than 12% of Michigan adults "who have ever had COVID-19" reported experiencing long-term health effects from their infection, also referred to as Long COVID. Long COVID can be associated with mental health symptoms such as anxiety, depression and concentration or memory problems, also known as "brain fog."
For additional mental health resources, visit the COVID-19 webpage.