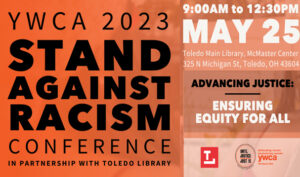 TOLEDO, May 12, 2023: The YWCA of Northwest Ohio has announced the 2023 Stand Against Racism Conference- Advancing Justice: Ensuring Equity for All, in partnership with the Toledo Library. This FREE event is on Thursday, May 25th, 9:30am-12:30pm at Toledo Library's Main Library McMaster Center. Check in will begin at 9:00am when the library opens.
This event will include a spoken word performance by Robin Jones of Madd Poets Society, Keynote Speaker Loretta Ross, a panel discussion, and Q+A. The panel discussion will recap the 2023 Challenge topics: disability, housing, music, & mental health. The Panel is made up of Dawn Bentley, Michael Hart, Albert Earl, & Andrea Hill. Breakfast will be provided!
"We are excited to bring the Stand Against Racism Conference back to our community," said Lisa McDuffie, President and CEO of YWCA of Northwest Ohio. "This event is an important opportunity for us to come together as a community to learn, grow, and take action towards creating a more equitable and just society."
Toledo Lucas County Public Library Executive Director Jason Kucsma said, "Equity for all is an important value of the Toledo Library. Coming together with our community partner, YWCA of Northwest Ohio, we want to keep taking steps toward creating a better Toledo each and every day."
Hear from our keynote speaker, Loretta Ross, an award-winning, nationally recognized expert on racism and racial justice, women's rights, and human rights. Her work emphasizes the intersectionality of social justice issues and how intersectionality can fuel transformation. Ross appears regularly in major media outlets about the issues of our day. She was recently featured in a New York Times piece, "What if Instead of Calling People Out, We Called Them In?"
For more information, visit www.ywcanwo.org or call the YWCA of Northwest Ohio 419.241.3235. All tickets will be scanned at the door and seating is general admission. Free parking is available in the Toledo Library's attached garage!
Register today through Eventbrite: https://2023YWCAconference.eventbrite.com