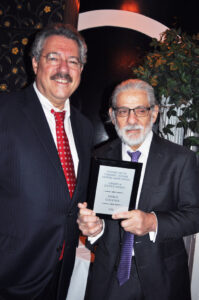 December 7, 1953 – May 17, 2023
Spiros P. Cocoves, a caring father, devoted husband, and accomplished attorney, passed away peacefully on Wednesday, May 17, 2023, surrounded by his loving and supportive family at ProMedica Ebeid Hospice Residence in Sylvania, Ohio. He was 69. His death marked the end of an arduous 15-year battle with Parkinson's disease.
Spiros was born in Detroit, Michigan, on December 7, 1953, to Matina and Euthymius Cocoves, followed by his siblings, Thea and Nicholas. He worked at automotive factories to fund his education, earning a Bachelor of Arts from Oakland University, a Master of Arts in Politics and Government from the University of Kent at Canterbury, England, and a Juris Doctor degree from The University of Toledo College of Law.
While pursuing his law studies, he met Kyle Cubbon [who also became an attorney] and determined that she was the love of his life after only two weeks of dating. They formed a remarkable partnership and raised their children: Tasso Cocoves, 33, and Athena Cocoves, 32.
August 24, 2023, would have marked their 38th marriage anniversary – a testament to their enduring love.
A dedicated student of human nature, Spiros worked as a criminal defense attorney—especially on the federal level—in an attempt to quench his tireless passion for justice. With exceptional ambition, profound influence, and a brilliant legal mind, he achieved a distinguished career as a trial lawyer.
Spiros was well-respected by his peers. Fellow defense attorney, Chuck Boss, of Maumee, said: "I'll miss him. He was one of a kind. I enjoyed talking with him and went to him more than once for advice on federal law."
Spiros made multiple appearances before the Ohio Supreme Court and the Federal Courts of Appeals, earned a reputation for his appellate work and cross-examination skills, and was bestowed with awards from his colleagues, including the inaugural Liberty and Justice Award from the Maumee Valley Criminal Defense Lawyers Association. [See the 2016 La Prensa photo, where Spiros (on the right) is shown with Chuck Boss.]
Guided by an unyielding dedication to the US Constitution and the Bill of Rights, Spiros fought relentlessly for his clients and for the release of the wrongly convicted, setting precedents that continue to protect against unjust treatment.
With his distinctively long ponytail, often juxtaposed with handsome bespoke suits, Spiros was a seemingly contradictory man, tempered by an unwavering moral foundation, who relished opportunities to perplex the uninformed. He was, to quote Winston Churchill, "a riddle wrapped in a mystery inside an enigma."
Befitting a man with such charming complexities, Spiros enjoyed diverse and eclectic interests: immersing himself in opera, singing along to Frank Sinatra, devouring a steak with Kyle's homemade Caesar salad, sneaking candy (most kinds), hoarding chocolate (all kinds), carefully reading "boring and dense" historical non-fiction (as described by his family, not him), studying James Bond paperbacks, staying up late for Hogan's Heroes and Perry Mason reruns, playing handball, cycling upwards of 100 miles at a time, and bringing laughter to a room full of people. He loved cheering on the Red Wings with his son, recounting history with his daughter, and simply being by Kyle's side, regardless of the activity.
Spiros was a good friend for many decades of downtown Toledo, having his legal office and other real estate developments in the 600 Block of Adams Street.
Spiros was a smart, loyal friend with a legendary sense of humor. He will be remembered as a courageous man with incredible wisdom who bore a long and harrowing disease with dignity.
Though taken too soon, his family finds solace in knowing that the diagnosis he called his "misfortune" never forced him to live a quality of life that he would deem unacceptable. After death, Spiros' will continue to help many more through his donation to the Harvard Brain Tissue Resource Center.
In honor of Spiros and his memory, the family suggests donations to the Michael J. Fox Foundation for Parkinson's Research.
Partial Source: Coyle Funeral Home.